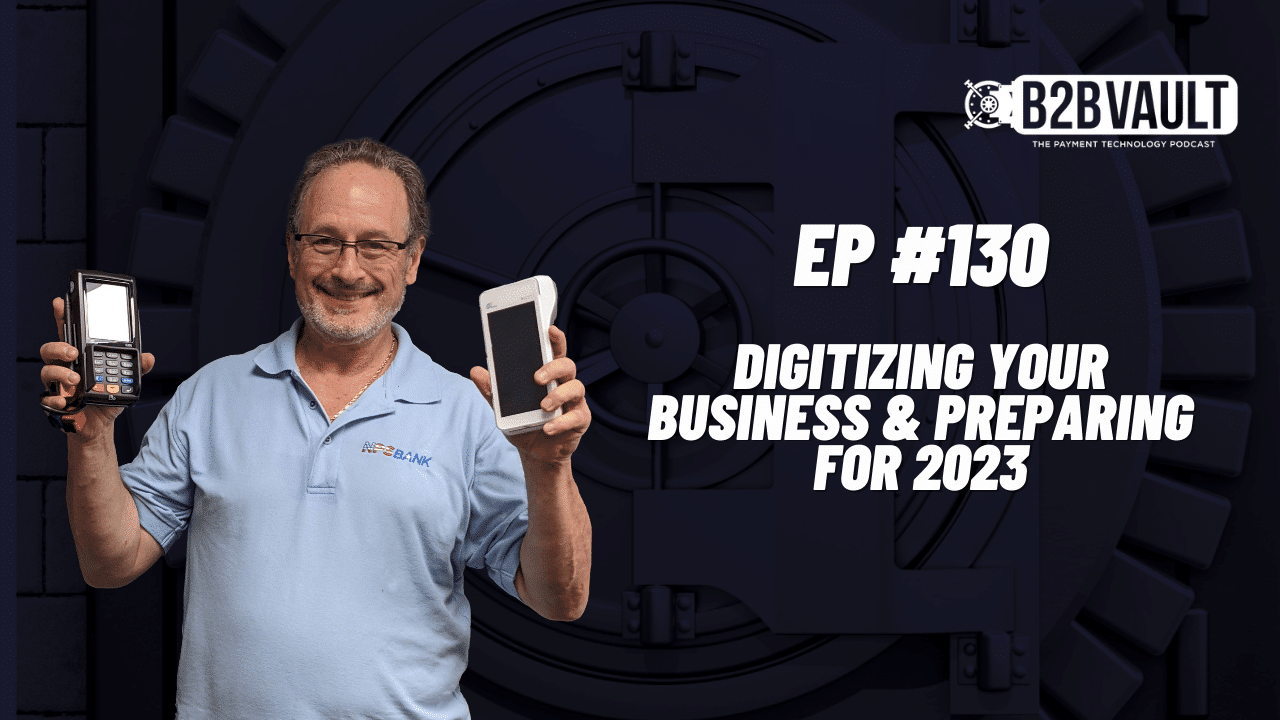 Hey, what's up everybody? It's Justin Live from B2B Vault, the Payment Technology Podcast sponsored by Nationwide Payment Systems, hosted by this guy Alllen Kopelman, and we'll be providing you educational information about small business. FinTech payment processing and the technology businesses are using in the world today and in today's podcast, we'll be discussing how to digitize your business for 2023 and beyond.
There's so many changes that's happening. And your business needs to stay on top of them, and why not? Take advantage of all the new technology, which makes your job easier. Easier for the customer to pay you, easier for you to get paid. Yeah, so Let's just hop right into it. Okay. I think that businesses today need to look at, a couple of different things.
You need to look at technology. And then we also need to look at, hey, do we need to, it's been a few years since the pandemic, right? And do we need to get back to the basics of, what they call gorilla, not the. Gorilla marketing, and get into things like handing out postcards, physical business cards, and get, I think that too many people became dependent on digital posting on Facebook.
And all of that. And ads on social media and Google have gotten very expensive. And I think. Today, you can use technology in your business to get people to leave reviews for your business. If you have the right kind of point of sale. What I was trying to say is not, don't not use social media, but what he's saying is to use social media in smart ways, like creating content for your business, creating reels, reels stories, adding polls, creating giveaways, question.
Questionnaires, all kinds of things. There's lots of different ways of using social media, but also as opposed of just using it for ads, right? But also incorporate back like the in person course stuff that you used to do, right? How many people are gonna go to a show? In 2023 go to a expo.
Like now I see all the local, are back outside. So I don't know, I think the people are gonna start going outside more and more. But I'm saying like now I see like before there was like the farmer's markets and the little outside fairs where you could go set up a table for your business.
Like those had gone away and now I. every week, more and more of them are popping up. , or local, like bi to biz trade show that goes on down here where there's different localized trade shows. Absolutely. And they're starting to pop back up with more frequency, more than like once every few months being more frequent.
And I think that people need to look at that and say, okay, how can I. Get, don't get complacent with what you've been doing and go back to what you were doing before. And reviews seem to be very big. Like it's in the news all the time. I'm different. Super, I'm always trying, telling you to get reviews for the business, you and you have to be careful.
When you're doing it in Google, because Google doesn't, like when you say you send out a mass email to 50 people 50 clients of years asking for reviews. Google doesn't like that. They think it's unnatural that 50 people went to your listing on, on, on Google and left the review for you.
They feel like it's spamy, so you won't get 'em. They will never show up. They'll, they, you might see 'em on the back end and you're, when you're, look, in your console. Yeah, no, when you're in the dashboard of the Google my business, you might see 'em back there, but you, they won't be live.
So what you wanna do is, for Google anyway, is you wanna slowly, reach out to three businesses a week. In reality, the best practice for that in is the, for me, I, out of the 10 years I've been doing this, the best way of doing it is immediately after you've completed the project or whatever you're doing, if you sold them something or whatever you do, they're in your store shopping and they're and they're.
The best way of doing that is, getting it right then and there, right? If that's possible, right? Like when you're at a boutique or somewhere like that it's pretty easy. Hey, do you think you could leave us a review before you leave the store? And they'll, they'll pull it up from whatever, but like a large, like a larger, I don't know, Publix or something like that, right?
Leave us a review. It's not that important. Like one of the cool things I saw one of my clients doing before the pandemic was they've got a banner stand , and then they asked people to take a selfie, like in front of step and repeat kind of thing like this. And that's a great way of bringing bread and away.
And it had their, had their logo on there and they were like, oh, please, on your way. Shopping, hold up your shopping bag, give your phone, let me take a picture of you or shoot a selfie in front of our step in repeat, and then tag us on social media. So there's great creative ways how to get people to do that.
Like restaurants I think have it easier because they use Yelp or Open Table or, different like reservation apps. I hope their businesses aren't still using. They, it's weird, if you go on open table and you make a, you'll trash, but you go on open table, it's really weird and you make a reservation.
I don't somehow I do that when I go out at night. If you go in going out, and you have plans with a group or something, you can't show up at restaurants anymore. A lot of restaurants don't have enough. So they try to stagger the reservations. A lot of restaurants don't have enough vegetarian options for people like me, so I don't care.
I get it. , even for me, like I try not to have like gluten and stuff, so you have to be careful where you go out to eat that there's options that are not, loaded up with pasta. And bread and all it's only sandwich. The sandwich place doesn't have a way to get a lettuce wrap sandwich or a salad.
I'm careful where I go to eat, but I'm just saying, looking for healthy options. But it's of funny. And I made a, the last time I used open table, I made reservation. Then afterwards I'm getting like a thing from Yelp, oh, you ate at blah, blah, blah. I don't know. They know I ate.
Unless somehow they're, unless they're connected to each other, I wouldn't doubt it. But it's also, but also when people do leave your review, it's important to answer them. Acknowledge 'em. Oh, thank you for coming in the store. Thank you for dining at the restaurant. Not just Yelp. I sure can.
Does Yelp integrate into point of sales? No, not really. I don't think they integrated the point of sale, but people use it so they know that you, like maybe you clicked on the restaurant, maybe the location services. No. You drove by the place. I get suggestions from them all the time. Yeah. I don't use Yelp.
But it's, I don't use Yelp because they do shady things. Yeah. People complain about them. About people like trashing a business and then Yelp doesn't do anything about it, which I think is wrong. Somebody might have had a bad experience. I don't think that, they can't, and someone that's just a that's just a small Right, what I'm talking about.
No, I know what, that's just a small thing. Yeah. And then, it's a, you have to pay to get reviews on there. They will not show them, if you're a small business and you got a competitor in their. That's the one thing, and they're getting paid for your, their ads. Yelp is whack. But that's that same thing we talk about there's no parody.
So like on Google, let's say we want to advertise, we can't afford to advertise. There's companies that are a hundred times we can't afford to advertise, but we can't a, we can't compete against the ad budget of these huge corporations. That's what I'm talking about. We're trying to aim for the.
Keywords, right? So we have to be smart and agile and pivot and know that, okay, these are the keywords that all of us are trying to acquire, we wanna be found for. So these are the, the low hanging fruits. , no, but that's, I'm not gonna say 'em because they listen.
No, but that's what I'm trying to talk about is that small businesses are at a disadvantage against whatever Target, let's say, or let's say you have a Momand Pop restaurant and you know your competitor is Pizza Hut. At Domino's you're getting into a conversation that like really intrigues me a lot and I'm, it's cool that if I'm happy that I'm starting to see it more.
Businesses are starting to understand how important search engine optimization is. Before I would get laughed at when I would send them a proposal for, $1,500 a month. $5,000 dump. You know what I, yeah, they would Dr. They would look at me like, what? I'm not paying you that, and you can't tell me when this is gonna show me results and absolutely not. It's not how search engine optimization works. No, but it's, you can't pay your way to the top. You have to create content and you have to follow through. Otherwise, you'll never obtain the goals. You know that whatever you're trying to do, you won't reach.
You have to do it. You have to create content. You have to hire SEO guy. Finally I'm just, it's just, I'm just happy that, businesses are starting to understand that digital marketing is more than, S advertise, it's just part of your, it's just part of your business. You have to figure it out.
But sometimes, like when I had my restaurant, gorilla Marketing were great. You just did, newspapers were around so you could do different things as far as digitizing, yeah. But digitizing, you gotta just have active profiles. The internet, make sure you Google My business is up to date.
Your Facebook has posts, a few times a week. You just gotta keep your, you gotta keep your digital presence up, that's what you gotta do. And then let's talk about business technology that people can use like, , do you need, do you have a cash register now and you need to move it up to the next level, or you have just a credit card machine sitting on your counter, and maybe now it's time to, get a smart terminal, which is a little bit different because it sends, instead of most credit card machines, just print out a receipt, right with the smart terminal.
You can text or email the receipt and then you can communicate with text, customer, email, or print. Text, email, or print. But most people today don't want, they don't want a text. They want an email. Yeah, they want a text or an email. They don't want the printed receipt, so I don't, I usually go for the text.
I don't know why I I don't. I like a text. Not necessarily a fan of giving, then I just, my email, no. Then you just see it on your phone. You go, okay, great. And then it can block, but it also gives you the opportunity to, if you wanted to run a text campaign, you could get a bunch of these text messages and run a campaign or emails and run a campaign, things like that.
So it's, before we move on again man, just the number one thing, if you don't have a website, duke, and we're talking about digitizing your. And you don't have a website in 2022 going into 2023, close your business. . Don't say that. Get a website. No. Get a website. Yeah, get a website.
Even if it's a one page website. Yes. Even if it's one page, it has the name of your business. And this goes a bunch of pictures. And this goes for everyone. Artists creative people who pottery people. I don't know, man. Stop using these services like Etsy and Shopify. You could direct people from your one page website to your shopping engine, but you don't need to do that.
You can set up a WordPress website. It's like it's more easy today than it's ever been before, so That's true. I'll just leave it at that. And there's also other things you can do. There's certain. Point of sale software we sell, right? Different point of sale software where once you put all you, you get the retail point of sale software.
Oh yeah. And you put all your items in there and then you put all the pictures in there. And once you have it all loaded up, , you can sign up for an additional service that gives you basically like a shopping cart, and then it's all linked to your point of sale, all linked into your inventory, right? And then you can really do some crazy stuff because with that, with this website linked to your point of sale, this is like next level, right?
And then the big buzzword, Omni channel Omni commerce or just commerce in general, right? Just commerce. This enables you to have, like you have your store, you have your point of sale, now you have your website. And on your website you can offer the same services at all these huge stores. You can ship the item to the person.
You could have 'em do an in-store pickup, you could do a curbside pickup. You could, all you gotta do is put a little cone outside your bus, your front door, and put a sign on. It says curbside pickup, because there's people, let's say, there's a percentage of the population. That, were this whole thing been going on for the last two, three years.
Listen, there's a restaurant by my ass. They have two spaces outside, curbside pickup. There's bigger restaurants. We've talked about Olive Garden. They got 5, 6, 7 spaces outside curbside pickup because a lot, some people, they're just not gonna go into a restaurant to eat, but they want to eat your food or they want the t-shirt you sell in your shop.
Or they're buying, let's say business cards from your printing store, or they're buying whatever it is. Maybe you sell jeans, right? And then they want to come to your, they want to buy it. Like they know their size, they want to buy it. And then if you don't offer a way for the people to do it, they're not gonna call you on the.
This way they can go to your website, buy the product, do a curbside pickup. The person pulls up outside, right? Boom. You bring them out their bag, they're already paid anyway, and you bring 'em out the bag outside, boom. Or the person goes, oh, ship that to me. Ship it to me. Ship it to them.
. We had a client, it was a crazy story, the. Had a business in New York and they were mail making belts and wallets, and the guy. Was put outta business cuz of Covid, right? Oh, that's right. Couldn't have his store open anymore. So by chance, his, the guy's dad lived in Florida, so he decided, oh, I'm gonna move to Florida.
Because his lease was up, closed up the whole shop. The was there for years. His parents ran it. Grandparents ran it, but they couldn't. Yes. Such a terrible story. But the more, but let me tell you what happened. So the guy moved down to Florida, boom. No store, no nothing. People still needed the belts and the wallets that this guy was making, people were come there and buy these like custom items, that the guy was making, he put together a website, we get put together the credit card processing, and bam, he was back at business. Nice. Selling everything. Yeah. That goes to show. Ingenuity. Just No. Good for him, right? Yeah. But it's unfortunate that he had to even go through that, right? That why would you have been in 2020 without a website? Yeah. He didn't have a website. He had a one page website.
No, it doesn't. No, he didn't have a website. He didn't, he can't buy something from him. He didn't have a website. All he had was a. Probably a HTML land. Like a, yeah, that a landing page that's, it looked like a pamphlet from back in the nineties, I'm sure. Yeah. Yeah. There was just a couple of pictures on there.
Yeah, man, that's, that sucks, but I'm glad that it worked out for him. But that has to be, So that's just an example of, I can only imagine how many people that happened to. And then just, that's just one little, yeah. That's just one small guy that took advantage of that. And he popped, and then he started, he was lucky that he had email addresses for these customers in New York and he started emailing them. Yeah, you can still get these great product. Buy it online. Buy it online. And they ramped back up. Did he get a, did he open a shop back up?
They're thinking of opening a shop up now in Florida. Not in New York. It's cheaper than not here, I'm sure. Yeah, it's not gonna do that. So there's a lot of, it's cheaper down here. We talk about, it's, there's a lot of vacant space, so we gotta pay state tax. No state tax here. But I'm saying rents are dropping now.
Commercial rent. I don't wanna talk about rent. Like commercial. Rent is rent. Yeah. I don't know anything about that. No. I don't know. There's a lot of empty commercial space, so it's a problem. We're locked in. Yeah, we're locked in. But that's that. But it's also hard to find small space, big spaces everywhere.
And there's a lot of companies moving into the area. Do you think you should let us cut a hole in the back of the office right there to do what? Put a window that. I don't know. I guess we could, you'd have to, I dunno if I want to spend, I don't know if I wanna spend money upgrading someone else's saying there's no windows in this place.
Alan's got us locked in a vault for real. Okay. We're in the vault. It's the literally vault. It's literally a vault. Okay. 2023, that's the If you're not doing e-commerce, do e-commerce. If you have products, please, We say this all the time, there's two forms. I joke around, whatever.
I don't know why. If you don't, if you have questions about how to set up a WordPress store or anything related to digital marketing in general, web design, Graphic design. We have a fantastic graphic designer by the man of name of Samantha. I'm sure she'd be happy to answer any questions that you guys had.
Yeah, I would love to answer. We do, we make logos for people on the side, so if you need some help, you can always say, Hey Jay, man, I really need some help with this website. You think you got some time? I sure do. My kids' birthday's coming up. They're turning sweet. 16. I need
I need every $16 billion, penny. Any everything I can get, man. No. So if you don't have a website, you gotta get a website. Maybe your website needs to get upgraded. Maybe you need to add e-commerce, add curbside and in-store pickup options. To get more business. You gotta get more business. The big box stores are doing it.
You have to do, technology is the great equalizer. I had a business owner, know, he tells me, he goes, oh, $80 a month, it's too much for point of sale. What mean it's too much for point of sale? You gotta be kidding me. You get some point of sale cost three, four, $5,000. We have it where you can just be monthly, right?
You need a minimal amount of equipment. You could get a point of sale for this, depends what kind of business you got, but you can get a point of sale and then create a shopping card in there, then link it onto a website. You can do all kinds of crazy stuff. We always talk about what platforms are you gonna use for your like social media game?
You got Facebook. You have Instagram, you got LinkedIn, Twitter, although there's Twitter is like a big always in the news. I love Twitter. I don't care what anyone says. saying it's always in the news. Now, not a fan of Elon Musk, but I love Twitter. Okay. Hopefully he figures out how to make it better.
Hopefully the people that hire, that he hires, right? The people who are like smarter than. I think that he's good at doing that. I don't know what he's good at. He's making more, he's made more electric. I don't wanna argue. He hasn't made anything. He, the two people that founded the company, those are the two people who started Tesla.
Okay. He didn't do anything. Alan, stop defending that guy. Okay. I'm not defending him. He's he. He's a good businessman maybe, right? The company, maybe let's just say this, the company, Tesla has made more electric cars. Any other manufacturer.
Electric cars. That's it. That's their claim to fame, whatever it is the guys involved in running these businesses. SpaceX, stop with, let's move forward, man. Okay. Forget about 'em. All right. I hope he does well and his children are well taken. Care, and then, you everybody's talking about TikTok.
Now, should you be on TikTok? Not on TikTok. I dunno. You should be on TikTok if you know how to TikTok. Yeah, if you're not a dance. It's not all about dancing. Joking, you're hilarious. I love that with it. Yeah. Anyway, so TikTok is for it was created for the youth. But I think how businesses can utilize it, it can be, you can bring brand awareness to your products, if you have, and it's not all about like the Ja, don't get caught up in it, man.
Be natural. Be your natural self. Look, I'm sure your children are on TikTok, right? So also I think it depends on what's the age group of your customers, right? So younger customers is probably on TikTok, younger demographic. My father's on TikTok. Okay. He likes You're on TikTok.
That's true. So you just, whatever you just say, it's a lot of interesting things on TikTok. Everyone is on TikTok. It's fun. It's, it's quick. It's, you don't have to sit there. You could scroll. So like how I think brands should use it. If you have a product, it's great for that.
You, you're already, I'm sure you're taking pictures of your product, blah, blah. Pulls it to TikTok, put some music behind it. Yeah. It doesn't have to be a video. You know what I'm saying? Yeah. Hire a part-time, like maybe a high school student or a college student. Maybe you can hire somebody one day a week.
They come in, they produce a bunch of videos, use a social media scheduling tool, right? And then it all just rolls out. Then you have the person come in the next week, do the same thing again and again and again, and he posed a couple. Two, couple of posts a day, but it could all be done in like a day or two part-time.
Sure. Maybe the person comes in for, does that mean Facebook has the planner where you can plan all your posts for Twitter, I mean for Instagram and Facebook. Right from there, you can post to your groups from the planner inside of the business manager for Facebook. The social media tools that you have in front of you now are, the possibilities are endless.
You could one, so me and Alan, we were just talking I think a lot of businesses forget that you're local, you're a local business and you don't care if people from t. See your profile when you're trying to sell physical products in Chicago, right? So this is where SEL comes in play. And this goes back to what I was saying earlier, I'm glad that businesses are starting to understand and what's that other thing we use that mo local thing, it's just, that's seo, right?
But I'm just saying you can get tools like that, right? Moz local. There's one. Stay away from that. One. Yext. Too expensive. Yext is expensive. Very, but it's effective. If you have a store, it could be more effective, more multiple locations, right? It's very effective. But yeah, man, if you have a bigger local seo, keep your mind on local.
If you're, your county run, run, it's like they would say if a record label. Looking at, you think you're a popular singer or something, and you go to a record label and they're like are you popular in your hometown? And you tell that guy, the record label owner, and you're like, no, not really.
They're gonna be like why not? Cause you know, you have the most reach right now, like you're, that if you're right here, you can get all this. So focus on what's you know around you. And then, Don't go for the big bag right away, you can blow your whole budget and really miss on a big opportunity if you, and also be careful when you're posting on social media, make sure you put in a budget.
You don't just leave it wide open. No. You have to set your budget on, if you're talking about running ads. Yeah. If you're doing an ad or boosting a post, make sure you're putting a budget in. Cuz I spoke to someone the other day, they boost. They didn't put in a budget. They got all of a sudden thousand dollars bill from Facebook.
That sucks. Yeah. So you gotta be careful when you're doing that. Know what you're paying for, right? Know what you're paying for. So the other thing is you know, what other ways can you bring in business, or get paid? So another thing that's become very popular is a payment portal or electric, or using electronic invoicing.
Instead of just sending somebody a paper invoice or emailing them an invoice and then you don't have a way to collect electronically. You gotta really step up your game like that. I've some company I do business with, I didn't even know I owed an invoice from like June of this year, and I was like, oh, sorry, I didn't.
They didn't, they, I don't know how they sent it to me, but I had no record of it in my email. Yeah, we got the delivery, so we paid the invoice. No big deal, but Right. If they had an electronic way to collect the invoices, I would've probably got the email, because it's a pain. You have to call them on the phone, give them the credit card over the phone, I'm not doing that.
That's what I'm saying. So sometimes I call them on the phone and then I'm on hold for 10 minutes and. Whatever, hang up the phone, move on. Although I say I'm not doing that, although I would do it for certain circumstances, like I just try to buy a part for my wife's car and you had to physically go into the dealership.
They don't take payments over the phone. Crazy. Like how are you at, they should have, how are you? A Toyota dealership? Like a big, this is a huge Toyota shop and they don't take, yeah, they should have electronic invoicing send you an invoice. You click the link and pay. Oh, something That's just become, A lot of businesses need to have that so they can electronically.
Is that because they don't want people to come and buy the. I have no I probably want you to come get it fixed, to put the part in themself in charge of Oh. Make you harder for you. No, but I think that a lot of businesses don't know that they can. Do electronic invoicing. They don't know how to use it.
Once we show people how to use it, they're like, wow, it's that easy. And with the electronic invoicing features we have, there's actually two way communication with the customers. You can send them an invoice, then they pay, then you can send 'em a message. Thank you. Then you can send them a place for, you wanna get a review, let 'em review.
Right, whatever you're using. Like we have one company they use trust pilot, they put the link in for trust Pilot. Oh, let it nice. Give us a trust pilot review. So it's really, other ways to bring in business is like we talked about, going to conventions, going to expo's, local Chamber of Commerce, like tabletop shows, and getting the name of your business out there, or even.
I was shocked I went to this farmer's market. When you're doing that though, do it when it makes sense though. Don't waste your time and go to some place. That's not for your niche, right? No. Like I was at a farmer's market the other day. I went last week to a farmer's market.
I was surprised. There was a few local, like clothing stores and a new restaurant that opened up and it's smart. They put up. It's probably minimal. A hundred bucks. They put up a tent and then they were out there. The clothing store was, had some of the items. They probably sold a few things.
Handing out business cards and coupons. Getting back to basic stuff. Yep. Another way to bring business in, depending on what your business is you know, can you establish partnerships with, schools non-profits as a way to promote your. Promote your business or partner with another business that maybe does something similar to you or something like that to establish like a partnership to get referrals.
, like maybe you do power washing and you power wash people's roof, and then you go to the, and then you see Justin, there's a few broken tiles on your roof. You need to get it fixed. And Justin's and then you, instead of that's leaving it just like that, you could say, Hey, we have a, I know this guy who's a Rooter and you do a little partnership with them.
There you go. And then you say, Hey, take this guy's business card. Then when, he calls Al on the roofer. I go over, I fix your roof and maybe throws. You have a partnership and you're sending business back and forth to each other. So you gotta look at things like that in order to grow your business.
Absolutely. That's like back to basic networking. I learned in BNI givers gain, you gotta, you go, you do things back and forth with different businesses. Man, I couldn't tell you how many things I did for free, man. I have no. That's, everybody's got a free website from Jay
I hope it's still up. Okay. And another thing is, another good way to promote your business or to get your name out there is to do things like, Maybe participate in a charity donate to a charity, then post pictures on your Facebook and your social media and on your website. And, cuz that's one thing that I've been reading a lot about is, what's the purpose of your business besides you have a business?
So now a lot of business, if you're just thinking about that, you're in bit tough shape. No, but I'm just saying, we were reading when I was, we were talking about No, I get it. I'm just saying in general, if you gotta think about that, you're in bad shape. But I'm saying like now you see a lot of businesses.
We're talking about it, we're gonna put it on our websites and a purpose statement, right? So a lot of businesses are starting to do that because people are interested in, oh, what do these guys support? What is this business? What are they, what's their, what are they doing for the community?
Yeah. Oh, you mean finding that purpose, right? What's the pur, are you a lot of Cat Bs too? That like their whole thing? Oh, I. Oh, for the children. Yeah, but you gotta do more than just say it. You gotta do something. I get it. Yeah. So you gotta, a lot of businesses have all kinds of statements on their website.
Save the Planet. Cause he's dumping his rv. Juice down into a river. . I'm just saying that you don't want to post something that's just self-serving and saying a statement like, save the whales. What are you really doing? I seen that the other day. Literally, this guy got caught. He's like super, whatever, trying to do the.
Living on the, in the camper thing. Yeah. He was dumping his waist into the local river. No, that's no good. You got, that's so bad. The guy got caught and all He said, I'm sorry, , he said calling the cops. No, but I'm just saying like a lot of pe a lot of companies have these weird statements on their website, but what are they what's actually going on?
No, I think it's a great thing. I think that if legitimate companies who are doing it the one comp, there's this one company down here, like their purpose is to save the turtles. So every bracelet you buy from them, They're giving like $5 to whatever ocean organization to save sea turtles.
So that's like what you're saying, like the purpose driven type of, yeah. Purpose driven thing. And then, that's a definitely a business model that is sprouting up all over the place. And I saw it when I was at the financial brand conference. They were talking about that for banks need to have a purpose statement and show that there's, for every new.
Bank person who comes bank with us, we open a bank account in a third world country. I don't know. I don't know about that. Can't say I'm saying no. No, but they were just talking about like the bank saying someone gets to go to school. No, but they were saying like the credit unions, they were like, oh, you want to be like part of the community.
And that most of the banks there were like smaller type regional, state, local banks, and credit unions. So they were just one of the, one of the talks, there was a lot of sessions, right? . So one of the speakers was saying like, wow, your bank should have like a purpose statement.
So to show like you're involved in the local community, like we're involved, our company, We're involved with the City of North Miami, with the police athletic league, with other charities in the area, other charities around Fort Lauderdale. Hey, so we're, so we, I can't believe the police have when p I know.
Hey, sorry. No, but it's just funny to me. No, but the they do good things. The PAL in North Miami does good things. They get kids off the street, they have tutoring, free tutoring at their building so kids can come there, they can get involved in sports, all different types of sports, and they get coaching and they get.
Tutoring. So the people who, that's important, they need tutoring for school. They have somewhere to go to get tutoring. That's, subs, that don people are donating, like the Miami Dolphins, the Miami Marlins, the heat all donate there to give money to the for so that kids can get free tutoring.
Very good. It's not a. It's great neighborhood. So North Miami isn't, yeah, really. There's a lot of, I don't know, under whatever. It's underserved. Let's just put it that way. I'm a local, but I don't, no, I'm just saying travel side of Fort Lauderdale. No, I'm just saying there's under, kids, some kids need that.
They need tutoring. They can't get it at school. Maybe because it's not available at school and they need something more. Oh, they go to tutoring and then they go do sports at the same place. And also like down here, it's just really tough to like, what's a bad neighborhood? And you can't tell the difference.
No, I'm not saying it's a bad neighborhood. No, I'm just saying you can't tell though. Even if you travel into it, like I can't tell cuz coming from where I come from, you can tell. I get it. You just entered a war zone. I get it. What I'm saying is, Sometimes so many kids need tutoring in school, right?
And then they don't, the parents don't have anywhere to send them. So at least with PAL, it's like they combine different things like sports and tutoring. So good for pal, you guys are doing great things for the community. Thank you. Keep it up. We appreciate you. Yeah. So it's important.
Think about the things. What are you gonna do? I tell Justin every year, probably, and throughout the year, I always remember Who moved My Cheese. And it's a, it's a great book. Should read it. And it's a bus, more of a business story than about cheese. You should set up an Amazon affiliate profile so that you can, cuz you plug that book a lot, right?
You can probably make a little bit of money. Maybe it's all cheap books, like $3. Oh yeah, no problem. So it's, I don't really, it's three or $4. No, but it's a great, what you could do is you could buy him out. And then raise the stock. The price maybe. And then you can make some money. I don't know.
Maybe we can do a partnership with Who Moved My Cheese? No, but who moved Your Cheese is the business lesson of, hey, you have to look at your business. Maybe you're selling a lot of, I remember those spinner things? People fidgets, fidget spinners. No, you gotta look at oh, people are buying this kind of pants or this type of shirt and you just gotta, you gotta look at your business and go, like a lot of clothing stores during the pandemic, all of a sudden everybody's wearing like workout stuff, right?
Workout clothes, stretchy. No, I'm just saying people were dressing stuff. No, but people were dressing more casually is my point. Oh yeah. I've always dressed casually. I'm the guy that would come to the suit and tie event in a fair. Fatigues and a graphic T-shirt. So I'm just saying, so you just have to, you have to look at what is the, what are the trends and go with the trends.
Think about that. We'll put a, maybe we'll put a link to the book in the podcast notes. Maybe not. Whatever. I will. Okay. Piece out everybody car A dm. Thank you for listening to B2B Vault. You can always text the word. 9 54 8 2 7 9 8 1 8 and get a link to set up an appointment. Visit the website, B2B vault.info.
You can click apply now. You can contact us. You can do everything you want to do there. And everybody have a great day. Piece out please. Theres,