High-Risk Merchant account
Nationwide Payment Systems offers high-risk merchant services for both Domestic (U.S.A.) and Global processing options. If you need a US account and global processing, or if you need to get set up In the EU or Canada, we can assist with that. We offer flexible solutions for merchants, including Multi-currency and Cryptocurrency processing. We provide industry-leading, forward-thinking technology, and solutions for merchants of all sizes. We will assist you with compliance, chargebacks, PCI, and whatever else we can do to help. We focus on our customers and help you grow your business and increase profits.
For over 20 years, we have been helping merchants with high-risk merchants and businesses, niche businesses and emerging business types get set up with innovative payment processing solutions. We are constantly innovating and assisting business owners along the way to grow their businesses, process transactions, and pivot in an ever-changing market. With our experience and direct contacts with banks, processors, and full liability companies, we can place many merchants in these categories. We have the knowledge and expertise to put together a package to present to our partners so that you will get approved. We are NOT brokers.
High-Risk merchant account does not always mean you have to pay more. Higher-risk accounts need to work with an experienced company that knows your business. We work with banks that know specific verticals. Because of their experience and the fact that we properly vet out our clients, you will get better rates and fees. Sometimes High-Risk is Niche – you are in a niche market, and only a few banks or processors take those types of clients. We know what they will require, and we will explain to you how to be compliant with their rules so that you can process credit cards smoothly.
High Risk Merchant Business opportunities: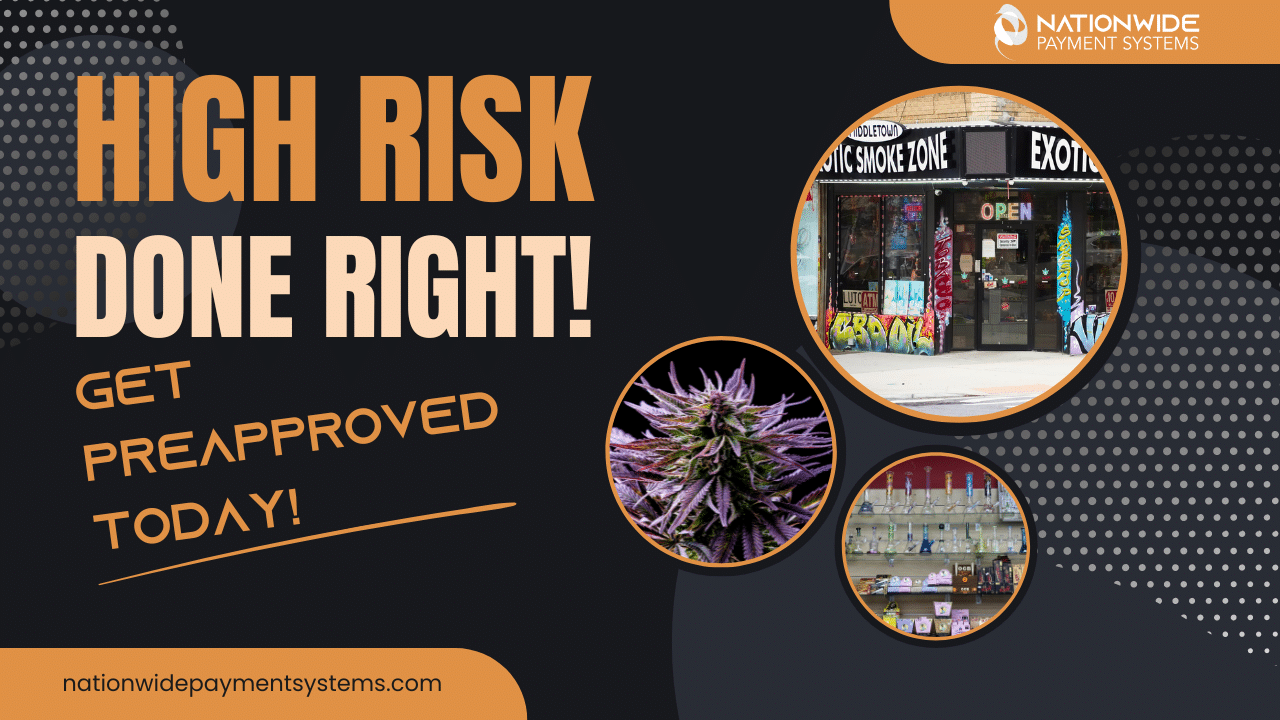 CBD
Adult – stores, websites, streaming, strip clubs
Tobacco, Cigars, and Vape online & Flavored Vape
High Ticket – High Volume
Nutra and Vitamin Products
MRB merchants
Gambling – Gaming
Adult- retail, online
Airline Charters
Auction houses
Barter Services
Warranties
Web Services
Marketplaces
Travel
Buying Clubs
Crypto
NFT (Non-Fungible Tokens)
NFT Marketplaces
NFT games
Crypto related businesses
Credit Repair
Credit Monitoring
Collection Agencies
Dating
Adult Sites – Streaming – Fan Sites
Membership
Discounts Sites
Firearms/Ammo
Time Share
Vacation Rental
Multi-level Marketing – MLM
Bad Credit – NO Credit
Auctions
ID theft
Document Preparation
Address Change/ Passport/ Birth Certificate Services
Money Transfer/ MSB
Nutra
Online gaming/ Fantasy Sport
E-Sports
Vape
Flavored Vape
Cigar/Tobacco online
Telemedicine
Pharmacies **Legit Scripts or NPP
Warranties
MATCH LIST – TMF – case by case basis
Alcohol – card not present
Bail Bonds
No Social Security Number
not sure what you need?
Contact one of our payment consultants and we will put together a program that suits your businesses needs. We look forward to working with you.
Click Here