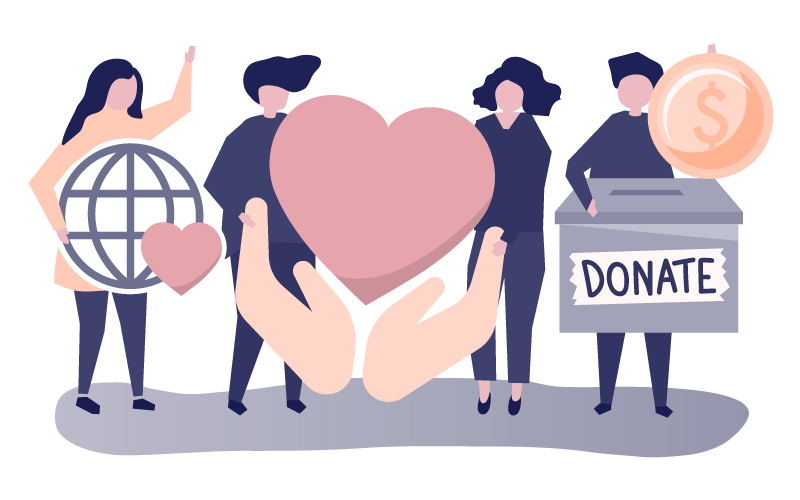 Nationwide Payment Systems 2022 Community Giving Project, we donate in kind and funds to local charities each year. This year we wanted to do it and involve our employees in the project.
Since founding Nationwide Payment Systems Inc, in 2001, Allen Kopelman and David Burney have always been involved in the local community, donating time, resources, and money. This year we decided to take a new approach by involving our employees and picking local charities. As a team, we wanted to impact the community positively. We chose charities that impact the environment, children, education, and veterans. We feel these are essential charities and are doing great things in the community.
It was nice to go out and meet the people who run these organizations and learn more about what they do and how they impact the community. We plan to continuously be involved with these organizations in 2023 and learn more about their mission to find ways to help them.
Allen Kopelman, CEO
David Burney, President
Samantha C., Graphic Designer
Justin Owings, Web Design and Digital Marketing
Anna H., Administrative Assistant
Rocky, Office Mascot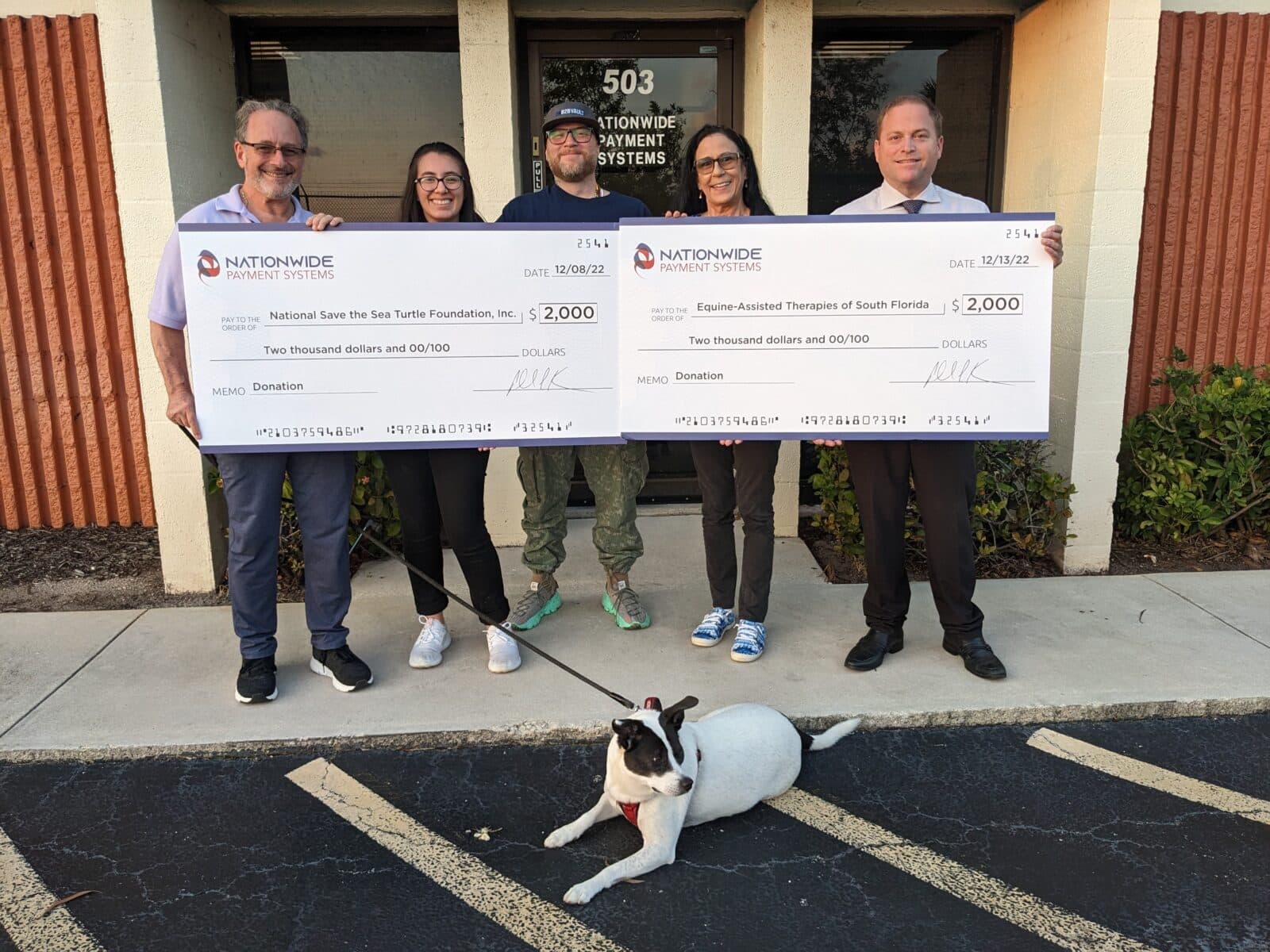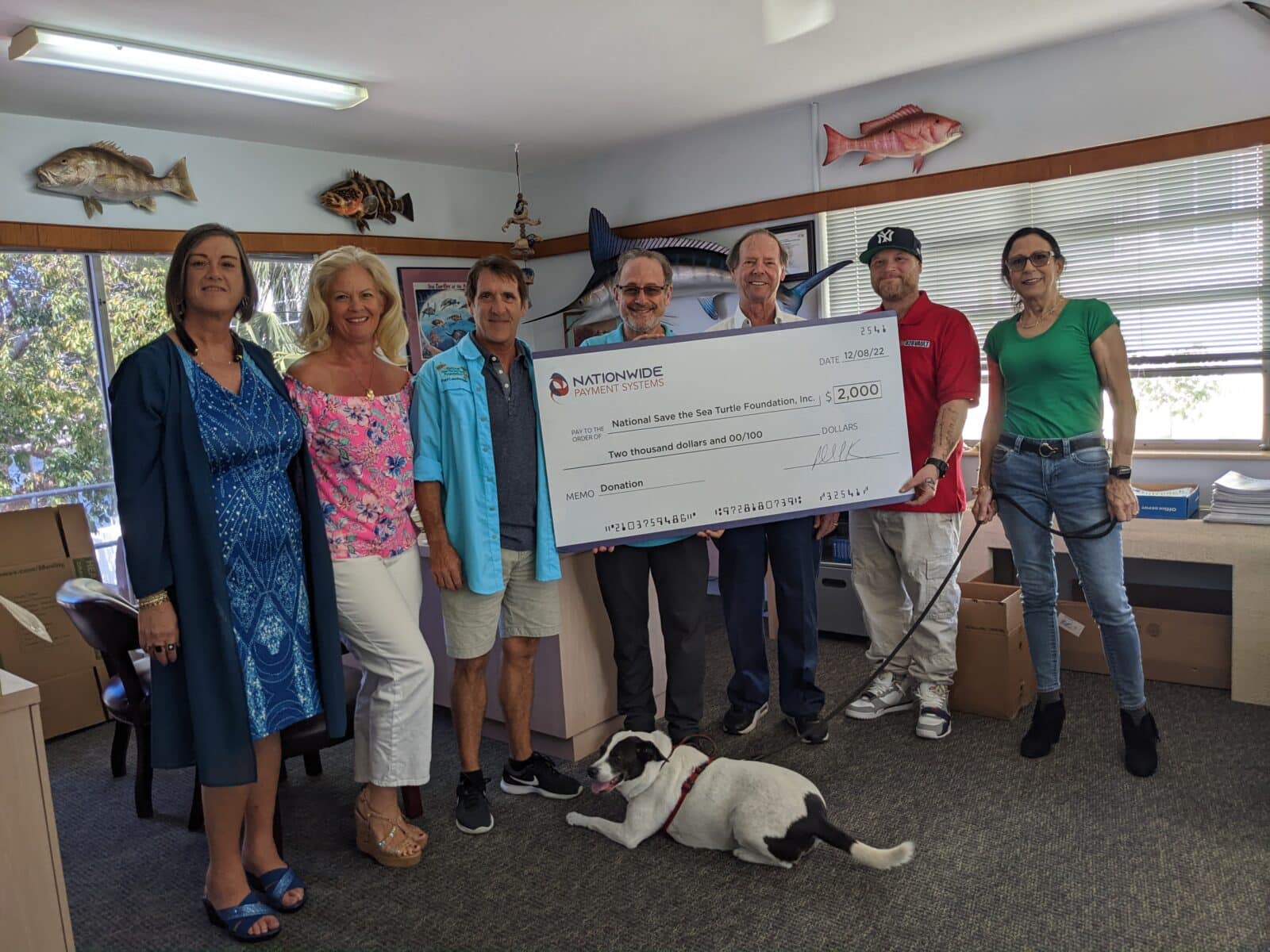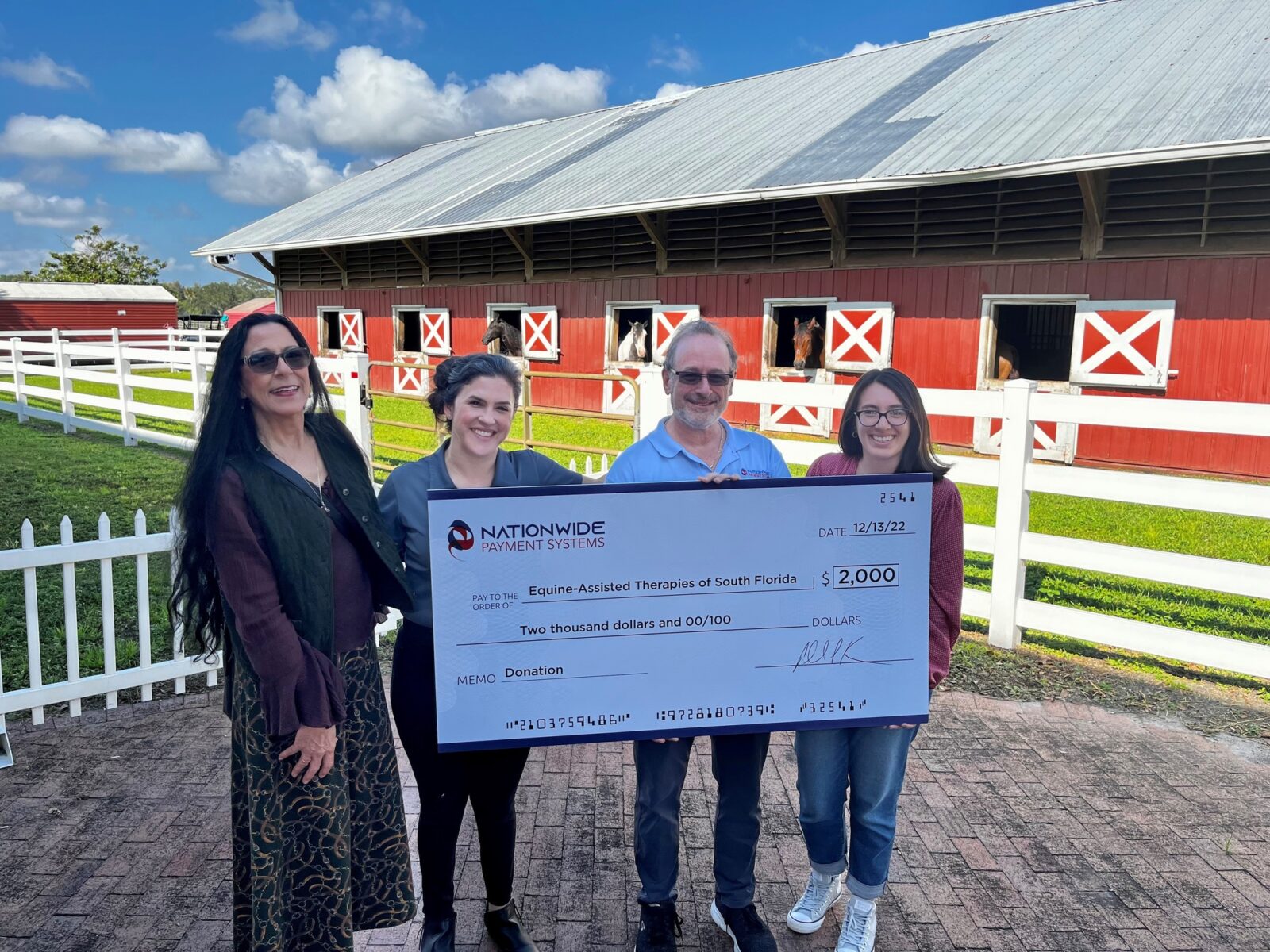 National Save the Turtle Foundation
Learn more at https://savetheseaturtle.org/
Wayne Kurian, Larry Wood, Barbara Buckbee, and Kelly Flanagan
Since 1987, the National Save the Sea Turtle Foundation has worked tirelessly to provide educational programming, promote public awareness of Florida's marine ecosystems, and support sea turtle research both in United States and abroad. The Foundation is dedicated to assisting those who devote endless hours in the battle to understand and preserve the marine environment and invites you to learn more about this important work. 
We donated $2000 to support further research and create more awareness of the importance and crucial role of the marine environment for our world.
Equine-Assisted Therapies of South Florida (EATSF)
Check https://equineatsf.org/ for more information.
Molly Murphy, Juliette Holden, David Plath, Missy Tussing, Emilio Del-Toro Romero
Equine-Assisted Therapies of South Florida (EATSF) provides therapeutic riding and equine activities to children and adults with special needs so that they may improve physically, mentally and emotionally.
They envision a place where abilities are strengthened, where activities lead to self-confidence, and where each person can experience life without limits.
We donated $2000 to create more opportunities for people to experience life without limits.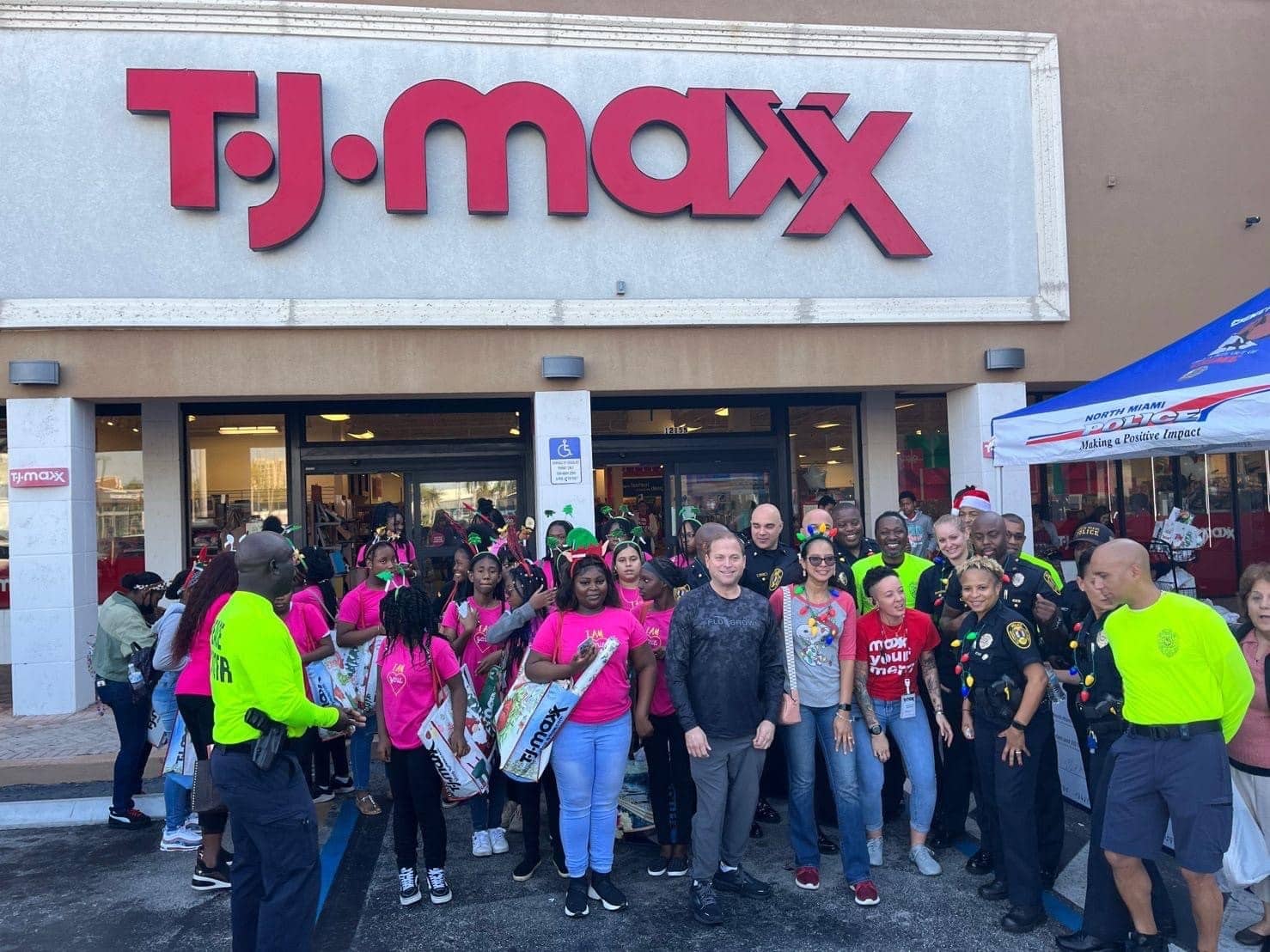 Y.O.V.E. – Youth of Valor Empowerment
Check out their website: https://www.yove.org/
Dr. Alourdes Pierre, C Ed., Author, President, CEO
Their mission is to mentor, empower, develop, equip and coach underprivileged high school teenage girls attending public schools in under-resource communities by providing opportunities and growth experiences that will enable them to become independent and confident young ladies, college bound, career focus and ready to join the next generation of women leaders and pioneers of tomorrow. Circle of Love Empowers women and girls.
North Miami Police Athletic League
Learn more at https://northmiamipal.org/
Larry Juriga, North Miami Chief of Police, Executive Director
"The Police Athletic League of North Miami's (PAL of North Miami) mission is to cultivate the partnership between parents, schools, the community, and the police department in order to develop productive, active leaders from our communities' youth."
This was a joint event with Y.O.V.E. & P.A.L. Where 50 children recieved $100 gift cards to purchase clothing for school.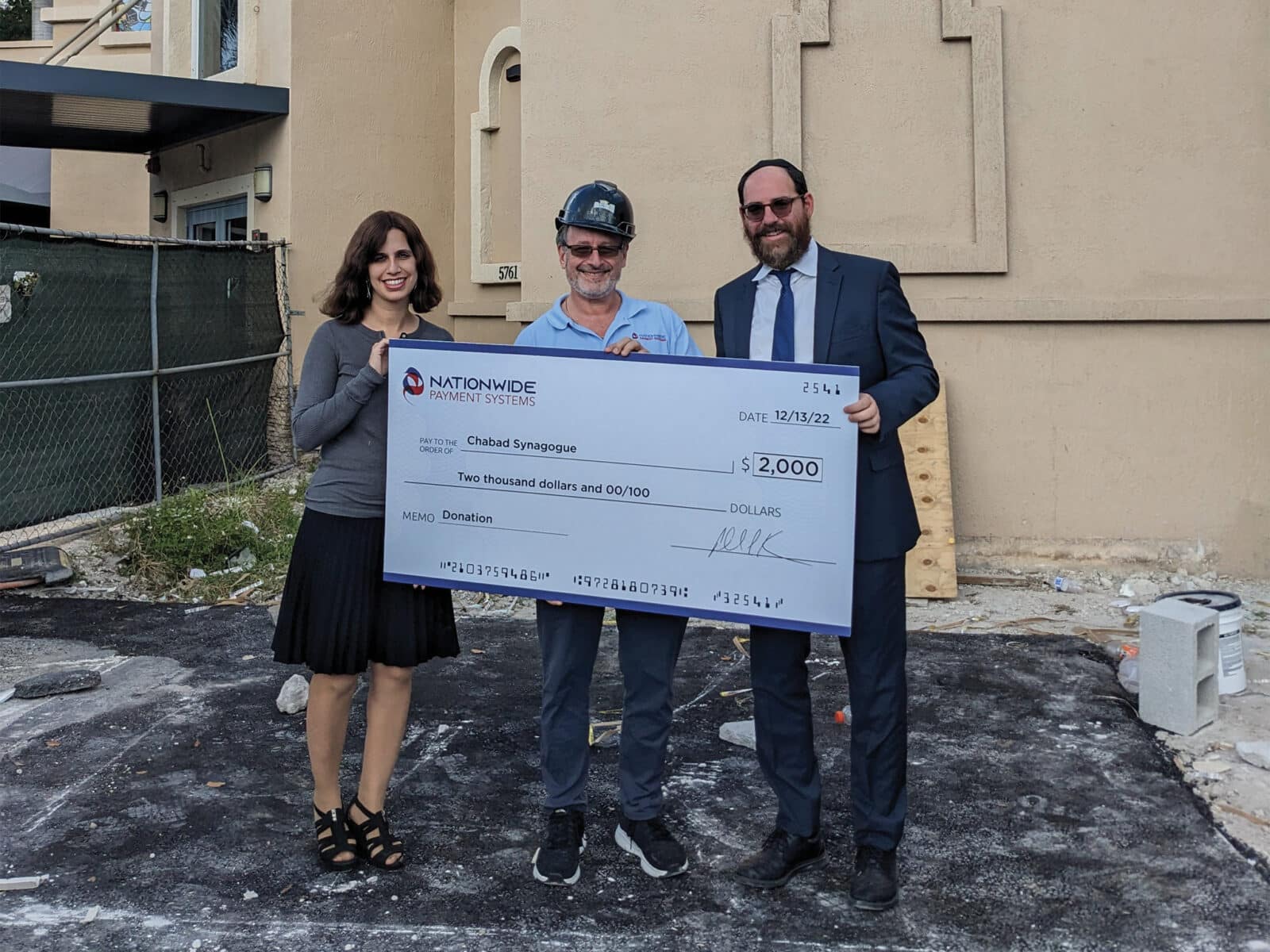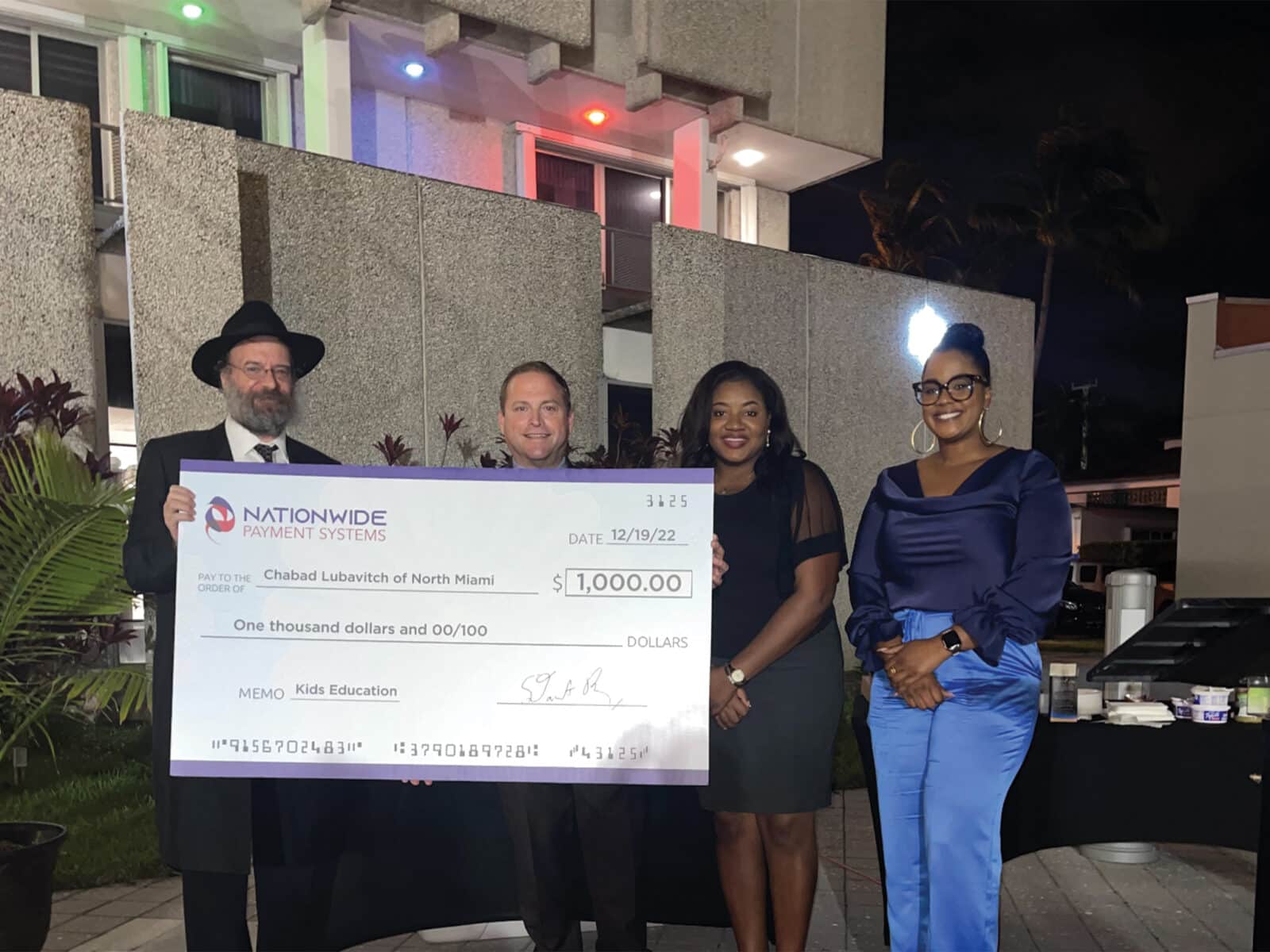 Chai Center – Chabad of Coral Springs
Learn more at https://www.mychaicenter.com/
Allen Kopelman CEO, Nationwide Payment Systems, Rabbi Hershy and Channie Bronstein
Established in September 2005 under the leadership of Rabbi Hershy & Chanie Bronstein Chabad Synagogue has become a dynamic center of Jewish Life. They offer a variety of programs including Synagogue Services, Community Holiday Celebrations, Hospital Visitation, Counseling, Bar and Bat Mitzvah Classes, Hebrew School and now Preschool too.
There are no pre-requisites for involvement with Chai Center their programs. They are here to serve you and will do their best to help you and your family to enrich the quality of your Jewish life. You do not have to be a member at Chabad, nor do you have to agree with everything Chabad says or does – If you are Jewish and looking to learn and grow consider yourself a "member."
We donated $2000 that is going to help with the expansion of the school that provides education to young families in Coral Springs, Florida.
Chabad Lubavitch of North Miami
Learn more at https://www.thejewishcenterflorida.com/
Rabbi Avrohom Lipszyc , NPS President David Burney, North Miami Councilwoman Kasandra Timothe, North Miami City Clerk Vanessa Joseph
Rabbi Lipszyc is establishing a Chabad presence in North Miami at the Channukah Candle lighting celebration,
David Burney, President of Nationwide Payment Systems, Presented the Rabbi with a donation.
The Rabbi provides many educational programs for children and adults in North Miami throughout the year.
The City of North Miami is home to many organizations, and we are quite active with many other organizations in
the South Florida area.