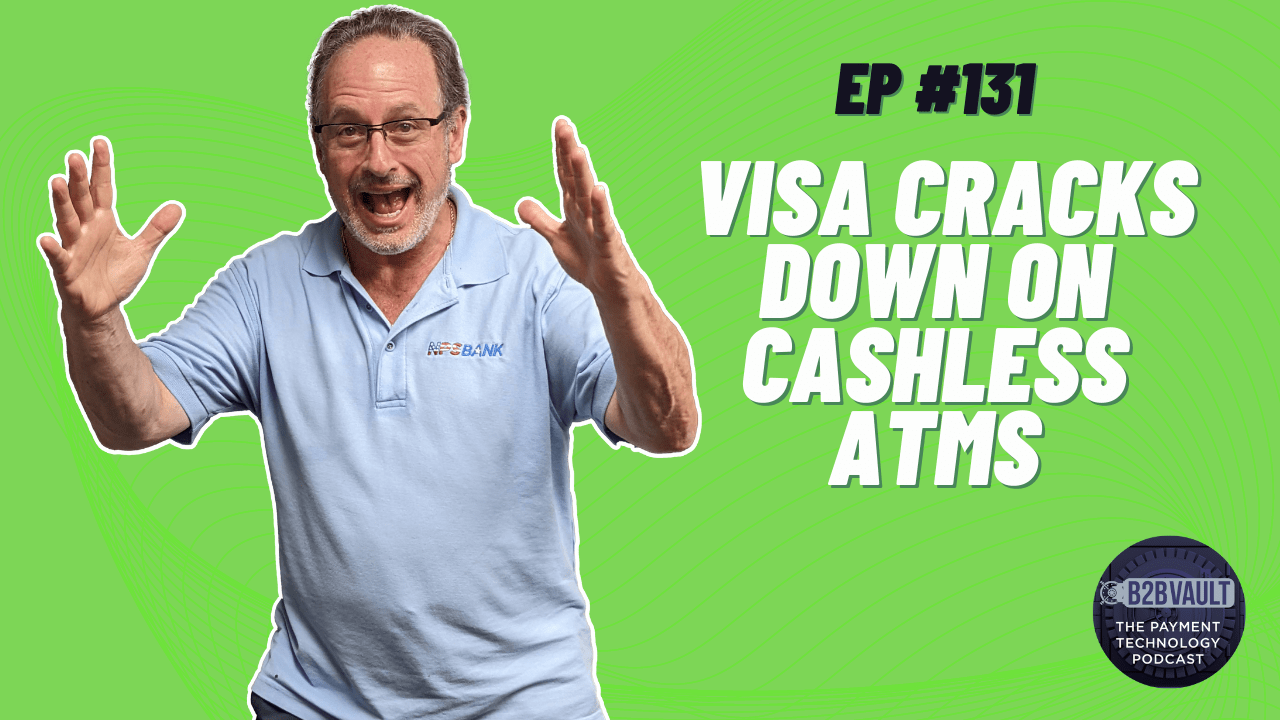 Hey, what's up everybody? It's Justin Live from B2 B Vault, the Payment Technology Podcast, sponsored by Nationwide Payment Systems, hosted by this guy Allen Kopekman, and we'll be providing you educational information about small business FinTech. Payment processing and the technology businesses are using in the world today.
And in today's podcast we'll be talking about ATMs and the cannabis industry and how the new regulations have basically forced them to go back to cash only. No more ATMs inside of the business. No, it's not. Not the atm, the cashless ATM to where you use it. There's a way where you.
It's sketch, but you people were getting company dispensaries were getting it done. And the government said, no way Jose, it's enough of that. They pulled Visa, did that? Yeah. Visa's threatening. No. Threatening. They're finding any machines that they find a fine of up to $50,000 per piece of equipment.
That's crazy. So cashless ATMs are referred to as, also referred to as point of banking machines, sometimes called a script machine. And basically they were a credit card machine program to act like an atm, except they did not dispense cash. It just dispense the piece of paper and it had to do it in, five, 10, $20 incre.
and some of the operators started getting more sophisticated because with an atm, you can see on the network like, oh, somebody opened the vault. , somebody put money in the machine, what the bill count is, and some of the more. Savvy or slicker operators started upping their programming game to include that nice and visa.
Not nice, but I get it. And over the last probably 12 to 18 months, maybe a little bit longer, visa got started putting the kibosh on it and shutting down various companies that were doing it. And even as like we are an ATM operator. We never ventured into that. In fact, we got a letter from the company we work with and it says they want to remind partners that no script terminals sometimes referred to as cashless ATMs or paying point banking.
Point of banking devices operating as ATMs are prohibited by network rules and they go into. You know what's in our agreement with them and then they go on to say, , if the terminals are found operating on their platform network, fines and all associated fees will be assessed. Visas recently assessed fines that were $50,000 per event per device and have potential to be graded greater.
Any assessed fees or are funds are passed to the market partner, which would be us. So we don't do this. And the your agreement would be terminated and if you had a sub operator and they were doing that, you can get in trouble for them too. And they refuse to be involved in the cashless at t m business because they believe that it's a deterrent to, at m operators who are operating legitimately, in the United States and they are.
Actively working to identify any cashless ATMs and they will take action immediately. Immediately. Whoa, they've sent out warnings before, but this is one's pretty stern. And also it appeared in Bloomberg and Bloomberg Law mis dropped every, I don't, if you're getting any type of Google alert, I don't know.
I got, I've been getting hit with. Yeah, the past three days. Yeah, the past three days. It's been, what, last Friday actually, I think. Yeah. It started and there was a big A, there was outages announced on several websites and companies were saying they're working on it, but who knows what's going on with that.
And also, they quoted in Bloomberg that. I guess either this year or in the last couple of years, over 7 billion in transactions have been processed using these cashless ATMs. So what's your thought on, is this just stupid? I think that it's stupid on the part of the government that the government should just regulate it because.
There's other billion dollars, 7 billion. $7 billion. Yeah. Of non-taxed money, right? And that only represented 25% of the cannabis transaction. And I'm gonna say that 7 billion is low. It's super low, right? Like they, they have no idea, right? So they're just putting a number on it, right? But the largest processors of ATMs, the banks, MetaBank, Columbus, data Service, payment Alliance, are all turning off machines as they found as they find 'em.
There's also a bunch of these like PPE payment methods where people can like, Zelle. to the dispensary or take money outta your bank account and put it on another app, and then that app pays the dispensary. Those are just workarounds that are waiting to get canceled, right? Waiting to get canceled because there's other ones.
There was one where it was, you could buy these gift cards. And then buy cannabis after you bought a gift card that, that's been shut down a few times. And this whole banking thing with cannabis is just so stupid and confusing, bro. Like yesterday I was reading an article about a bank that's just now starting to take funds, for can, for dispensaries, for medical marijuana, dispensaries only.
Yeah, I just don't understand it. Like how can one company put their money in the bank and other ones can't? And I was explaining that in another podcast. It comes down to compliance and the banks have to want to do the compliance and the businesses need to be compliant. Most of them, I would say.
But that doesn't mean that the Feds can't come in there and take their money. We don't know. They gotta pass laws for taxes and stuff. We do know, right? , the feds can still come in there, shut down a bank account and take every penny, right? Yes. But they need, it doesn't matter that it's.
What F D I C insured, it doesn't matter if that's in there or not. They could take it and say they owe taxes, but the whole thing is like I follow the financial committees and the House and the Senate, and then I follow the judicial committee in the Senate because that's where Dick Durbin is.
And he butts his nose into anything to do with payments. He's constantly butting his nose in. But at the same time, when you look at what they're discussing in these c. . It's pretty, I would just say it's pretty mundane, little weird stuff like, that doesn't, I don't want to say that those items don't need to be addressed.
Because somebody you gotta make an, you have to make an example of something. Okay. I'll give an example. So they're saying they need to figure out a way to get housing loans for the L B G. , whatever community. How does it have to do with cannabis? No, I'm just saying these are the things they're discussing in the financial committee.
Oh, they're not addressing the bigger picture items like cannabis, which could. Crypto, which could help the slow down the, could help the economy, right? Yeah. That could help the economy and help reduce the deficit and also an increase in tax revenue. Create jobs, right?
The budget, create more jobs, and, and maybe slow down this recession, right? They're not looking at stuff like that. The other thing is, last night also an article. , I think I sent it to you about this bank called Evolve Bank, and they were Yes, involved in a bunch of FinTech companies providing banking as a service.
Some of it was related to crypto and FTX and the and this bank is in, I don't know, hot water, some hot, it's a big hot mess. And but they're, you don't see these financial committee like they're over there. The financial committee in the Senate. Elizabeth Warren is screaming about Zelle, okay. What's wrong with Zelle? No. Where there's that fraud and all that. So it's a few million dollar problem, right? A few million dollars, right? No, because people don't know how to read. No, but I'm just Isn't that a public education problem? Yes, but I'm just saying like they're complaining about Zelle, right?
And having a hearing about Zelle and how to get housing for different groups of people. Instead of. Go tackling like the big stuff. They're, they're tackling these little, oh, you mean like we are worried about people who actually already have a home, where they're gonna live as to oppose the millions of homeless people that are right.
Like we're not dealing with. No, not that, but I'm saying, what I'm saying is when you say they're trying to figure out where some, where this no. How are those people are gonna get a home, a better home rate on their home loan instead of dealing with bigger problems? Because they're discriminated against at the banks, is what you're saying?
They're claiming that. I don't know if they are. No, but I'm just saying like there's much bigger, what I'm trying to say is have all these, like there's much bigger fish to fry, right? They have all these special interest. Okay, pet project things, right? And there's bigger fish to fry. Hey, let's do something about crypto reform.
Let's do something about these FinTech companies. Let's do something about these neobanks that are running wild and people are losing millions and billions of dollars, right? And the crypto people lost billions of dollars. They're not even discussing this stuff that matters that they just to just secretly whack all of.
crypto CEOs, four CEOs of what died and mysteriously died in the past week. I on that? But that's a little spooky. That's a Where's that guy, Sam Bankman fried, hiding in the Bombas? I know he's somewhere in custody. Oh, he's in, they arrested him now. I don't know if they arrested him, but I'm pretty sure he's under surveillance and he's in The Bahamas.
He's, yeah, but he's in the BA. He's not in the US but he can be extradited from the house. Yeah. They need to go get him already. Maybe he's safer down there because the other guy was like, in Barbados, they found him dead on a beach. I don't know, bro. Like it's it's some very sketchy things going on.
That's, that is sketchy. No, but I'm just saying like the financial committee, John Rose is on there. Maxine Waters. You got Elizabeth Warren. You need to start tackling the bigger picture things. I'm, this is just funny to me, but I think that it's the cartel, like the cartels Yeah.
Are killing the, these. They invested so heavily in crypto, right? And now they can't get their money back. That's a big problem. And so I think maybe they're killing people. That's what I think. I think the cartels they might be going after. Sam. I'm surprised Tom Brady's not ready. He's getting sued too. I saw there's a class action lawsuit against all the celebrity influencers that were involved with ftx.
Yeah, because look how many that, that commercial was on Super Bowl, right? Imagine how many people ran to their phone, downloaded the app and purchased whatever they, because of Tom Brady. Yeah. That's what I'm saying. And now auditor, entire life savings. Although, and those lawsuits are coming.
No, there's one already going on that says they're suing all the influencers. It's a class action lawsuit. They're gonna win. Tom Brady's got money to get too. He's. I don't know about the rest of the people on the . His wife's got funny too. That's probably why they got a divorce. His wife's had money before him, right?
Yeah. She's from his parents, right? No. She was rich. She was a supermodel. Oh, that's right. That's right. Yeah. She's a supermodel. So she was making money. She already had money. Yeah. So there's all these like workarounds that have been going on with the cannabis thing pin, and there's people advertising like a pin debit.
That's not legal. Anything involving Visa, they're gonna come in, they're gonna start finding these cannabis dispensaries. They're gonna find the people who are running these running all these machines and everything. They're just gonna find it. They're just gonna start finding everybody. And, visa can, they'll get, they're gonna get, they're gonna do something cuz they gotta.
Do something, but I, so this is a Congress needs to do something. The, my thought process on this is that this is why the black market and the great market is doing so well. They're talking about trying to end crime and do all this other stuff, but instead of like really fixing a simple problem, right?
It's, the voting has been there. Everyone wants legal cannabis. Everyone wants to either have it To be accessible. Recreational, right? Yeah. Recreational or medical to 21 and up 21 and up. At this point, I don't know what's the, like the, I mean besides the fact that there's hundreds of thousands of people in prison for.
Marijuana. They didn't even address that, so they're not going to, right? No, they're not going to. I just don't. I don't know, man. It's just crazy. Hello everyone. We'd like to take this time to thank our sponsors Nationwide Payment Systems and NPS Printer. We'd also like to shout out the listeners and everyone that subscribed to our YouTube channel.
Thank you for tuning in. If you'd like to reach Alan or. Head over to B2B vault.info where you'll find two forms, one to contact us and another if you're interested in becoming a sponsor. If you'd like to sign up for a merchant account, click the Apply Now button located at the top of the page of B2B vault.info where you'll answer a few questions and you'll be on your way to processing payments in No.
The podcast is available on Spotify, iTunes, Pandora, and other popular streaming networks. Thanks again for listening. No, so now that the article in Bloomberg said and a couple of other articles, dispensaries are opting to go back to cash, only cash. Now, ATMs itself like, an actual ATM machine, this is a small.
No, he's a wizard. He just turned that into a small one. I just turned that into a big att m into a small one. And but you could put an actual att m in, but there's rules. So the rules go by this, are, these are the rules from our bank, right? You mean you put a att m inside of your decision? The physical atm.
So the rules are the machine the machine has to be privately owned and not the, and cannot be owned by the. And the terminal operator who would be like my company and the source of funds cannot be associated with the owner of the dispensary. Now they can make part of the surcharge and terminals that are placed in dispensaries may not accept deposits and terminals may only be placed dispensaries in states where dispensaries are, permitted by government requirements.
So that's pretty easy to. And easy to get done. We can set up ATM anywhere in the US and we can get a lo, we get a local, we belong to a big network, right? So we have a big network of guys who work for the same ATM company that I work for. So there's guys everywhere. So we have a couple of dispensaries in Colorado.
And we have a G private guy out there has his own like little private armored car business and he put the ATMs in and he puts the money in the machine. And then at the end of the month we send a check to the guy who owns the dispensary for the MO for the commission. Nice. His commission and everyone fills up his gas tank or whatever.
And he makes plenty of. I bet it makes plenty of money. It makes money. They go through a lot of, they go through a lot of cash in the dispensary. But I think that, the, I think Congress needs to address the banking reforms and the Safe Banking Act and stop tiptoeing around all this stuff. And also, I, When I read like how things work in Congress, like now they're, they're all concerned, oh, the who won the house, who won the Senate?
That used to not matter and I wanted to do, and I started to do some research on it. Cuz I remember as a kid learning about government that to pass a law, they needed a two-thirds vote, right? And then they went to this majority vote at some. Where the majority rules. The majority rules.
And I think that they gotta X that out. Go back to the two-thirds vote. Because then it doesn't matter how many Republicans and how many Democrats there are. For the most part, because no one's gonna get a two-thirds majority. And the voting, and that way it forces them to work together. You know what I mean?
Yeah. It forces them and I think. Whenever that was changed, that was just bad and that needs to go back. I think two third things. I think a lot of things need to change. Yeah. I think there's so much change that needs to happen. . One thing needs to change is that, visa needs to put pressure on the government to legalize cannabis payments.
So this can all get cleaned up because the Congress needs to get off their. and address, things that can help the economy and why aren't like the business owners? I don't know. I would, they do that. I feel like I would see more, I don't see a lot of like news regarding Cannabis businesses forming, this huge coalition, they have an, they have two, the cannabis has two or three associations.
Of course they have tons. I'm What I'm saying is, sir Correct, is that you don't see them in the news. Like they're not like, protesting. They're not, it's a small group of people. That's the problem. But it's not a small group of people. It is because the, like in Florida, you have, and a lot of states have it where it's seed to sail.
So that means like that. Like here we have True Leaf is one of them. Yeah. Yeah. So True Leaf has to grow the ma, the cannabis, harvest it, get it in their store and sell it. How many? But that's one company. So listen. in California, there's probably, what, 500 dispensaries? Oh yeah. Good. In Los Angeles.
Good. There. There's more independent owners of dispensaries. But you don't see the state of California I'm just saying in general, you don't see business owners like. Out there, like when there was something that needed to be changed when I was younger. Yeah. You would see people outside with their signs inside in front of the White House or whatever, until it changed.
Yeah. In front of city hall. Wherever they were. Their state capitol. Or they would go to dc whatever it was, and they would get it done and then now it's just. It de it from outside looking in. It seems like we are all depending on social media to get our point across. Yeah. So much that we are losing, like real life.
. And to be honest with you we talk about that this metaverse like Yeah. Is that gonna be that? I don't think it's good. A bunch of people are gonna sit around with goggles on and not leave their house. Yeah. No, I mean for, I love video games, so I think it's really amazing and awesome and the technology is super dope.
But as far as like the kids walking around and all day inside of the Metaverse, no, I'm not a fan of that. I would like for them to go outside into the universe but. Yeah, man, it is just, it's crazy to think about all the things that we have to, if you have a can, if you have a cannabis dispensary, you definitely yeah.
Beyond the fact that they don't need 'em anymore. That's what the people were saying. That's what the, they laid an awful lot of engineers at Facebook slash meta. Facebook and Meta is in trouble because it's not the NFTs and the meta is not moving. Metaverse isn't moving as fast as they wanted it to.
That's what I mean. So they're all engineers. They laid off Stripe, laid off like a bunch of people. Like I said in this, like I was listening to it, they said that all these major companies, they mentioned FA meta, Facebook Google ABS alphabet. They mentioned Twitter, of course they mentioned, and also the main thing around all these playoffs and why it was such a big thing was because of all the work at home jobs, right?
Yeah. And they're just not they don't need 'em anymore. And cuz the company, the business was growing at its rapid rate and then it stopped and also, And all that ai, artificial intelligence has taken over for customer service. So if you, you don't call anyone anymore, you just, it's just press chat bot, press button, press buttons, chat bots, go look up your, yeah, go look up your in the knowledge base.
and so on and so forth. But a lot of these, also, a lot of companies started asking people to come back to the office. People didn't want to go back to the office and, a lot of, I don't know, I think I was just talking about, and their advert and their advertising revenues are down too, like Facebook advertising.
and Instagram, is it? I don't know. Yep, that's what I read. They're advertising recession. People aren't spending money on the, those ads like they were before. So it's a, it's a little bit of a thing. And then we also talked about the evolved bank at the whole collapse too with all the banking as a service.
And which was involved in a few crypto. They were connected to a few of the crypto companies apparently. , and then we saw the other stuff where FinTech companies are in trouble over funding P, and these are the things Congress needs to. Address, they need to address the cannabis issue, the FinTech issue the crypto issue.
They need to address these larger issues instead of worrying about, oh, Justin got $800 from Cash App and make sure cash app. He sent Justin a 10 99 K. So he pays his taxes on the 800 bucks. He got that. What they need to be worrying about is these millions and billions of dollars that are, that people got ripped off.
It's a fact. So let's just go over, we talked, we, the main point of the podcast was about this, all in the news for the last three, four days is this whole collapse of the cannabis cashless ATMs, otherwise referred to as script or point of banking machines. And that's out and the cannabis dispensaries are scrambling around, go, most of them going back to taking cash.
You can put an ATM in your cannabis business. It just has to be done in a compliant manner. We have a way to do that. We can help your cannabis business if you want to have an actual ATM in there, follow the rules so that it's compliant with Visa's rules, the Safe Banking Act rules, and all the whatever state and federal laws.
So that's today's podcast. We'll do our best. Hopefully we edit it a little bit. Gonna be a little choppy. Cutting, pretty choppy from one to the other. Follow the podcast on LinkedIn, Twitter, Facebook, TikTok, Instagram. There you go. We're on all the social networks. We're on all the at B2B vault, on all the podcast apps, wherever you listen to your podcast.
Apple, iHeart, Stitcher. Google. Google Podcast. Yeah. I have radio. Spotify. Yeah. All the podcasts. Amazon apps, Amazon Music, Pandora. We're there. And thank you to our listeners for coming to the end of 2022. We got, if you're watching on YouTube, we got our little holidays set up going with the little festive tree, and we got our Hanukkah.
No. Enough to add maybe a manova in there. Maybe we'll wear some funny hats one day. Maybe not. Whatever you Justin want, man. We'll get Justin a Santa Beard . We'll have Santa Beard Day. So everybody, thank you Carpe diem. Peace out. Have a great day. And hope you enjoyed the podcast. As always, if you want to get in touch with us, go to the website B2B vault.info.
You can hit apply now for our merchant account, or you can go to the contact forms, fill that out, set up. We'll contact you back, get a meeting with me and Justin, one or both and or you can text the word book on your phone to nine fifty four. 8 2 7 9 8 1 8. Peace out, carpe diem. Seize the day.