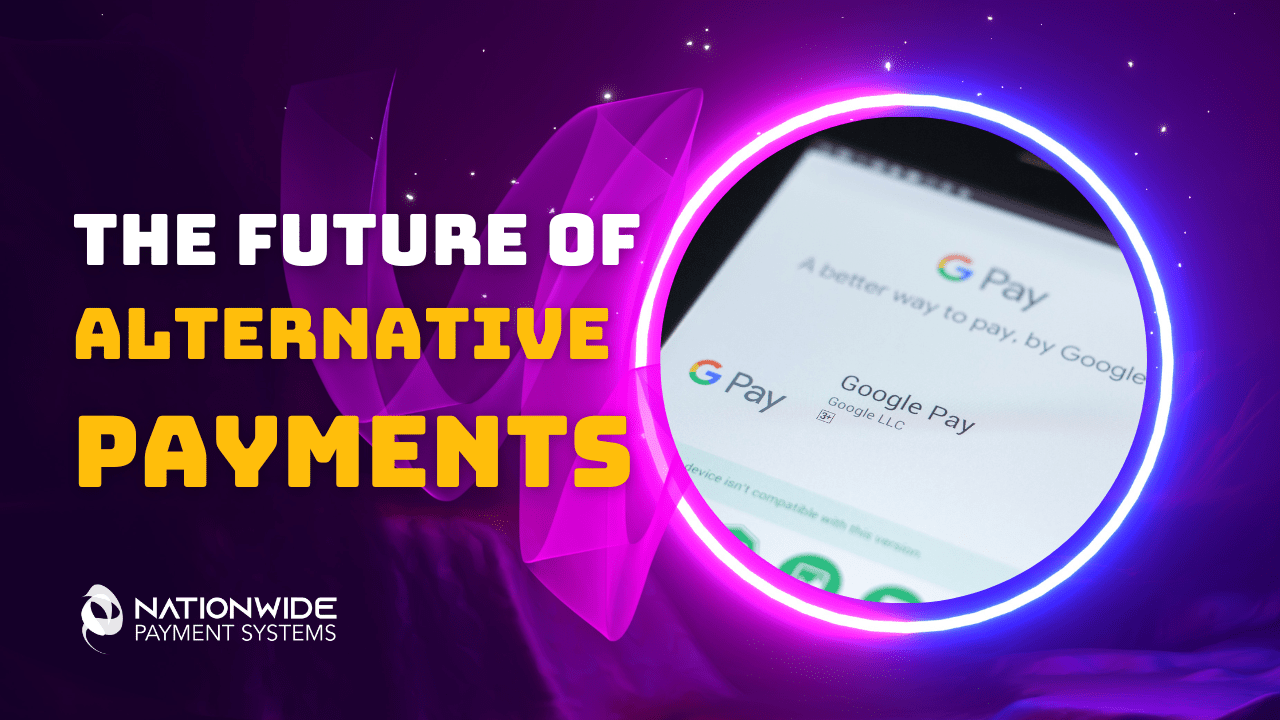 Video transcription
Yo, what's up everybody? It's Justin Live from B2B Vault, the Payment Technology podcast. Sponsored by Nationwide Payment Systems hosted by that guy in the corner, the Steve Jobs of Merchant Services himself, Allen Kopelman and today is FinTech Friday. Yeah. So yes, and in honor of FinTech Friday we got our first guest of the year, Chris Curtin co-founder of CurPay.
Super excited to get more, get to know Chris and to learn more about his. He's got a lot of stuff, brewing stuff, cooking up, man. Excited to hear about all the new stuff and his take on the state of cryptocurrency in 2023. So yeah, man, it's pleasure to have you on the show. So yeah, let's just get right into it, man.
Alan, what you got to say, dude? So we're, I've known Chris and his business partner Ted for a while. We, we became acquainted and we started talking about crypto, and then, crypto's gone on a rollercoaster ride. Today even a story came out and about Visa stands by crypto and the other, card brands every.
Still, I think people are still bullish on something going on with crypto. Chris yes, sir. Tell us a little bit about, CurPay and what, CurPay, what you guys see happening in the future for crypto. Sure, man. First and foremost, thank you guys for having me. I enjoy your show every Friday.
FinTech Friday is a staple for. CurPay is built on our core fa technology, automated volatility protection to balance out the volatility of crypto, right? So CurPay built on adoption and the education piece is enterprise software for both trading and merchant payments. What we see, what you just mentioned, VISA stands by.
Crypto, I have a saying that the tsunami of crypto is coming, whether, whatever's going on right now, the big companies are building the rails behind the scenes so that when it comes, they're just gonna turn it on and it's in your face ready to rock and roll. So I agree. We talk in those circles, right?
We can see a coming, if you see a lot of the companies working today, you can see they're building the methodologies and they're teaching their users how to use crypto already, but not just saying, Hey, this is crypto. It's coming. Just that we hope that everybody can be proactive enough to see that now we have the little up rollercoaster, like you said, but crypto's a big space.
So if you can break it down into the micro pieces there's a lot going on indeed. And what do you think, what do you think about the government, you think the government's gonna come in and do some, have some regulation or some rules? I do. So crypto is like the wild west.
It's like a lot of things, right? It's like the internet back in the early days when it came out, a lot going on. We come from another industry, which is, was the wild west, and that everywhere in the sports betting industry. It's regulated and licensing and everything else. What just happened with our friends up in The Bahamas really put things into a tailspin.
and with regulation comes these bigger companies, like you mentioned, visa, MasterCard, American Express. When the government says this is what we require you to do in order to process payments and or use crypto, it just opens the doors immediately. It gives it legitimacy and we're hoping that they can do that realistically and in the spectrum of us being able to operate.
Not to come in and clamp down on it so hard that. Now you're just pigeonholed. But the ability to say, okay guys, this is what we see. That should be the regulations. And then allow people to build out from there. What were, so I don't know if you, you caught that podcast when Al and I were talking about the regulations in Japan.
What's your thoughts on that? Do you think that we should, the way that Japan has their regulations, you think that the US should piggyback off of them and kinda use that same. I think that everybody's looking for the first country to blaze the trail that actually has a working model.
If they can adopt pieces of that and then mold it to America itself, then yeah, why not? If you don't have to reinvent the wheel and you can, follow somebody else's lead, sure. Do it. Indeed. Yeah. I think it's important. The consumer has a safe place to store their crypto, and that's like the Japan model because the crypto is being stored and watched over by two entities, one being a bank, and then the second one, the government agency, and that way we'll have another ftx.
Somebody raids the raids, the cookie jar that they shouldn't have their hand in. Yeah. So on that piece, so if you talk about that, you're talking about in the trading sphere sphere of having it on an exchange or whatever, you could bring it into your own ledger. You could have it in your own wallet.
There's many different methods of people that, it depends on what piece of crypto you're looking at. So right now you talk FTX and what they've done to the industry with great power comes great responsibility and they. Messed that up for us. But if you look at crypto's trading, crypto's, merchant processing crypto is holding.
So if you can break those pieces apart, if it is in an exchange yes. What you spoke of, if it is in your wallet and you hold the keys to that, then it's your own personal to do whatever you want with. There's all different revolving doors in that, right? and what do you think about that? I just wanna ask real quick.
Yes sir. What's your thoughts on NFTs, the NFTs and the web three and. So what NFTs? I like them. Some people don't like them. There's different models for that too, right? So we've been, we were in talks with people, I'm a triathlete and we were in talks with agents of triathletes that were gonna nft off their pro-athletes like their bike, where you could buy the N f T of that or buy a piece of their.
Personality kind deal that works in that aspect, right? Digital art is a big piece. We saw that open sea and all those kind of things was hot for a time. Some people think it's a fad. I think it has a place. I just don't think we found that place yet. Yeah, I agree. I think the utility part of the N F T is gonna be huge for companies.
Once the, it's adopted by the masses, I think. We'll be able to see how you NFTs can really be used in the future. Yes. Yeah. We talked to a client recently that want us do an NFT for a vineyard, and then you would get the NFT as part of a package of receiving wine each month. Okay.
And then NFT would give you access to their special. And, get a visit to the winery and different things like that. And I think that's, it's the VIP pass. It's a, that's a, those are great practical items for that use case, right? Yes, absolutely. Yeah. And the thing is like now a lot of those companies want to accept credit card to pay for those, since the value is more on the goods and services versus N F T as.
Vehicle to make money. True. Where it's, so that's pretty interesting. It's gonna be interesting to see how a project like that, what the percentages of people who purchase the N F T with a credit card versus who purchases the N F T with existing crypto. And if you think of that's.
Your need to want, you're gonna have the masses to say, I am willing to do this for you. Where the other way of, if you're doing a purchase, there's people out there that wanna buy something that are gonna use a crypto, right? So yeah, there's two pieces to that. And what do you think about all, like we've talked, so me and Chris have talked.
And his business partner, Ted, about alternative payments, right? And the launch of, there's several alternative payment platforms that are trying to get up and running, in the US to bring alternative forms of payment, like pay by bank, pay with crypto, pay with d. Wallets and different things like that.
And then do you think that's gonna help cryptocurrency get out there to the ma the businesses in a mass be more adoption because it's part of a whole package of alternative payments? I do. I think that, if you're going into a company that has that reach already, let's pay.
Companies that are just piecing everything together and you want to y z please just button in here. I do. That is true because it's going to give you the ability to say, Hey Justin, I have credit cards. I have digital wallets. I have crypto. For him to just say one day I'm gonna turn crypto on for the sake of what to see what happens.
I think that definitely helps. It helps. In the fact that companies that are starting out in the crypto space as a provider, you're, the scalability is easier that way. What you spoke of rather than going merchant to merchant, and what do you think that what do you think?
You think there's gonna become a day where someone's gonna walk in with crypto and pay for a burger, or do you think that in the beginning, like when we were processing crypto, when it was like sky high, right? Yes. Everything was a luxury item. Boat rental. V i p to the club. V i p experiences.
People were paying for, vacation homes, like insane amount of yes. People would drop, a hundred grand a week in cr, in Bitcoin, paying a hundred grand a week in Bitcoin to rent like a luxury yacht or a home. It was pretty crazy. People were dropping money on cars.
and everything like that. These things like that's gonna be the staple. Or do you think that maybe down the road we're gonna see something like U S D T become like a digital, like the digital dollar and people start to move these digital dollars around? Yes. Personally, I hope not. I hope that the US dollar token does not, I'm all for it being decentralized.
I want it to be. what it was meant to be. I don't want it to be controlled. I think that there needs to be regulations, but once you start turning it into a regular, then it's just currency again, and then it's. Yeah, it's not what it was meant to be. So I didn't mean to inter interject, but I just wanted to no, it's great.
That's, yeah that's what it's both sides of the coin. Like what, which side of the coin, how deep is the government gonna get into it, you know the answer to that. But the thing is that the answer to that, when you. When you talk about cryptocurrency in the form of a method of payment, right?
So it depends on the value of it. Bitcoin, you look at bitcoins and it's something that you wanna hold onto the gold standard kind of deal, Ethereum, the same way I do. So to answer your question, yes, I do believe that somebody's gonna be walking in the very near future payment in crypto for burgers.
They do it. At many locations, but right when you're talking about, when you were talking about paying for like young luxury things and Bitcoin and everything else, you look at it as a not an item that is not going against you. So if you went to, if you took your credit card or you went to your bank account and you took out a hundred grand, you feel that, right?
If you're doing, if you're doing a crypto transaction for a hundred grand, It's just, boom, it's a hundred grand of just a coin, right? The concept in my mind is that if you have a hundred K in Bitcoin, boom, there it is. Boom. It's all right. I paid for it. It's not parting your bottom line right?
There's a mental picture that way. There will be a coin that Peter de peer. that has not yet to be identified. A lot of people talk Ripple as the banking coin, Dogecoin as the peer-to-peer. Gamers are getting into, they have their own coin and paying for things that way. So you could see different verticals having different coins for methods of payment or the communities adopting just a single coin and saying, okay, we're gonna use Ripple and just pay for everything on a daily basis and then keep the other ones for asset.
In the right. Cause you've seen some companies doing that with Sheba. Yeah. Sheba was real popular for a second. You started seeing little burger spots. I don't know exactly where in the world this was, but there was like a whole community that was pushing the Sheba coin to be used DA daily.
It's about a million of them to pay for a burger . But think about that though. So if you look at, when you were talking about Bitcoin in 60 k to get one. Not many people have 60 K to just go drop on one Bitcoin. Where you could buy a million shiv for a couple hundred bucks and then you have that ability to spread it around.
Exactly. Yeah. So that makes sense how it could be more used more as a peer-to-peer coin. Yeah, I never, I didn't think of it the way that you explained it like that, like top tier, middle tier. Yeah, of course. Makes. . Yeah. I think that the, now it's a lot harder for people to introduce a coin into the US market because there's definitely been some regulation on people introducing a new coin because there's been a ton of money lost on that.
Yeah. It takes a lot of time, a lot of effort, a lot of backing on it. There's tons out there right now. I, you can't even imagine. Our trading software, we just do four exchanges and 2,400 trading pairs. That's a lot of coins that are out there floating around for people to, to dabble in. So with all of this can you hear me good?
You? I can hear you. Okay. Yeah. So with all the, like the nonsense with crypto going on, how did Carpay pivot, or did it change the business model? , is there anything that you guys are planning to do differently since all of this? In the, like the negative outlook of crypto in a sense?
That's a great question. When you look at, so it goes back to what I was saying before. Crypto is such a big space, right? So we have our two products, but on the AVP is a non-custodial. So it doesn't affect us or at, the exchanges we're in are ones with a lot of volume and Ted, my business partner vets them pretty rigorously to make sure that the volumes are there, that everything's nice and tight.
And then with payments, It's that scare fact, that scare tactic of crypto is bad because of what just happened. And if you look at trading Yes. That's an exchange that's gonna drive things down. We're a non-custodial, so we're we have the AVP that allows you to protect yourself in a manner that by setting certain requirements within the admin.
It would sell off at proper times and have you the ability to buy back in. So an accumulator. So this is a great time to use the trader piece. And from the merchant side of things, we look at it, we have a seamless to consumer risk-free to merchant, right? So we go direct to fiat. So as a merchant, you are not, you can offer 60 coins to your consumer, okay?
And then we handle the lift and then pay you back fiat, right? So there's no, the only person that is subject to what just happened in the industry would be the. because they're the ones willing to give up the amount of coin that it costs to pay for the item. The merchant themselves is still gonna get their a, their value of their product, regardless of whatever's going on in the market.
If you're selling a hundred dollars pair of sneakers, you're gonna get your fiat less the fees for that item. And it's up to Chris or Justin or Allen to say, I'm willing to give you x of this asset for that a hundred dollars value. And then you know that if you're in the crypto sphere and you hold crypto in a wallet, you know what you're giving up at that point.
And what do you think about the Bitcoin ATMs that are out there? What do you think? The future I love it. I love it. I think it's a great way. So education and adoption are the only way these things are gonna. One is education. Without the education, people are never gonna adopt it, right?
So you use an ATM on a daily basis. Bitcoin's not that much different. And if you're saying, if Justin says, Hey Chris, I have some Bitcoin, what's Chris gonna do? Word of mouth. And buddy is gonna, I'm gonna go, want to get some Bitcoin? Where can I get it? Head down to the atm, slide it 20 in there and get your little piece of Bitcoin right Now you, you have it.
And then that's where everything begins, right? You're eventuated to the crypto verse. Yeah, I remember when I remember I first moved down south Florida, and I walked into this little bodega on the corner by the beach, and I seen it and it said Bitcoin, and I was so curious. So I, I was walked in and I, I started asking questions.
The owner didn't know what I was talking about, he just bought it. That's it. But yeah, I think that it's gonna get very popular here soon. Yeah and it's now is when everybody should be like, being proactive and getting ready for everything to come around. The Bitcoin ATMs, it's perfect for people to either transfer and or accumulate.
They're growing. I know that in South Florida and up north in the New York area, all that is starting to blossom. So right as people hear the buzz. in the very near future, they're gonna be everywhere. Just like a cash atm. There's gonna be a Bitcoin ATM right next to it. It all depends on the rules and regulations, right?
I watch bit a M l I watch Joe SLOs thing feed all the time and see the rules and stuff that are coming out on that. They're becoming a little bit stringent, which is good. And I think that in the very near future, it's crypto is the new method of payment all the way. Yeah, a couple of the Bitcoin ATM companies recently are in a little bit of hot water because they were not doing K Y C on the people buying the Bitcoin on the machines.
Yeah. And there was a little bit of hot, there was a little bit of rub on that. . I think anything new, there's always gonna be friction, right? Until everybody finds sans it, everything's gonna ha, everything's gonna come and be like you didn't do this proper. Okay, what do we need to do to fix it?
And then by each incremental step, by the time it's full rollout, it's clean, everybody's happy. The regulators are happy, the owners are happy. The people that are buying are not overly infringed upon when it comes to the KYC stuff. With crypto comes a lot of. , K Yc a m l. It's just part of the business, right?
Yeah. Like me and Justin were at an ATM show, and it was, it was, there were sh there were, standalone bitta, Bitcoin ATMs there. And then they were also showing the these small sidecar machines. To get hooked on to existing ATMs. Yeah. That were gonna not just enable atm, but enable all sorts of transactions to go on the ATM machine.
So these companies have where you could go up and pay a bill. You could, we talked to a company that had. Where you could cash out your crypto on the atm. So essentially you could cash out some crypto and then pay a bill with it, or maybe even pay a bill with your crypto while you're standing at the atm and become more of a function of, like a financial hub.
The, a financial hub and just a place to take money out or put money in. It's incredibly smart that they're doing that. If you think about. What's the fastest way to get to go? I, if there's an ATM machine, you can build an addon to it. I build a whole nother machine where you can just plug in.
Yeah. That's what I smart. Like when I see those Bitcoin machines, I, that's what I think too, cuz they're so huge. They're like huge in both. They're big. Yeah. Like they took up the whole corner of this store that I walked into and that's what really caught my attention because not only was the sign that big, but like this machine.
You know the truck is back , but yeah, man, that's super cool. Yeah, I've seen a couple of massive, one massive ones of those. Bitcoin atns doesn't make a lot of sense to me, but it probably is a big safe to hold the cash that people are paying. Yeah, exactly. Exactly. So it's, it's an interesting part of the, the business, I've been in the payments space for over 20 years, so it's always interesting to see, these alternative payment methods and they pop up and then you know how they work out the whole discussion about pay by bank, do people want to do pay by bank or stick with credit cards?
The people gonna pay with crypto or stick with their credit cards and, alternative payment methods are gonna come into the space and they're gonna grow because it's only natural because younger people, younger consumers are going. Go, start to use the different alternative payment methods.
And we saw that during, COVID, people started going into the, using things like Cash app and yeah. These different, Venmo, PayPal, Zelle, and then all those companies, especially Zelle, is in big hot water now and a bunch of regulation come, came in onto those companies, so it's gonna be interesting to see how it all plays out.
But I think, for a business, one of the things that's gonna be important is to be using an alternative payment. So that all their alternative payments are aggregated together. Yes. And then comes in one payment versus, how can you deal with getting payments from all these different players?
And that's like when we deal with third parties and strategic partners. We allow to settle back and it's ACH credit card crypto boom altogether. In one settlement, like you said. And you touched on a great point, crypto's. , the tsunami of crypto's coming.
That's my go-to phrase. And the generations are the ones right behind us. You look at that stuff, they're on the phone is the new atm, it's the new bank payment. It's the new everything. Sure. And if you look at some of the bigger companies, and I, my favorite example is MasterCard.
If you look at a lot of MasterCard stuff these days, they're doing card Notre, they're doing scan qr. And what's the first thing that you do at Crypto Scan qr. So if you're, if they're teaching their people how to do that already, all they do is turn crypto on and boom, there they go. They're full across every se, every segment of the business.
I think one of the big things that's gonna come up soon is there's a several lawsuits going on against apple and Google in regards to the, phone hardware. Yes. . So one of them was already, one of the veils was already cracked because in the new phones, they put the NFC readers in the new phones.
Okay. And now it's cracked because originally Google and Apple were not gonna let any payment companies be able to use that technology. They were like, no, we're not gonna let anybody use it. And then that wall came down right away, right now. Quite, there's three, four payment companies or more building tools.
We have one probably coming at the second quarter of this here. You'll be able to come up to somebody's phone. They could pull up a transaction, tap your credit card on it, or tap your, bring your phone close and make a payment. And the other thing that they're all fighting about is the wallets, right?
The, wallets, wallet, getting wallets, alternative wallets on the. Yes. And that's gonna be, I think that's gonna be a major deal with alternative payments because once everybody companies like, let's say your debit, let's say you bank at a certain bank, ABC bank, right? And soon, if that wall comes down, That bank can put your credit card in your, into that app, and then you can just walk up to a machine and oh, I'm gonna o pay with my ABC bank today, tomorrow I'm gonna pay with my X, Y, Z tomorrow.
I'm just gonna take out my crypto app and pay with my crypto. Those kind of things. That's what's gonna bring all of this forward is cracking that. Cracking the. The wallet, the wallet getting cracked open. Yes. Everybody be able to put wallets onto the phones and that's gonna really, open the floodgates up for all types of different payments to come into the market.
And then merchants are definitely gonna need to have an alternative payment platform. We're working with, a couple of companies right now on. How are they gonna board that? What does the reporting look like and things like that. So they could have customers walking in. Justin comes into my store, he pays with PayPal.
The next guy comes in, pays with a cash app. The next guy comes in, hits a Venmo. Chris comes in and pays with his crypto. And after that, all organized into a dashboard so that the merchant can reconcile their books and not get, multiple deposits. I started in payments so long ago, merchant would get one deposit from Visa, MasterCard, one from their PIN debit, one from American Express, one from Discover.
One from Diner's Club, right? Yeah. So if you were doing all of that, like in a restaurant or a retail environment, you would get five. Coming into your bank accounts a lot to reconcile today for sure. You accept credit cards, you get one deposit for all credit cards. So it's gonna be really important, for companies to develop, these alternative payments into a platform like that so that the merchants and also, cuz the banks aren't gonna like it if you're gonna get like a gazillion deposits into your.
Yeah. They're not gonna be happy. So it's gonna be important for that to, to work. Then that's why the bank, the banks are pushing community banks, credit unions, even the larger banks want to get there. They want to be able to have their wallets on in people's phones, because they don't want they don't want to pay Apple whatever, cause Apple's collecting a fee.
I don't know about Google. Google was collecting a. Apparently they don't collect it from everybody, so what's your thoughts on, what is Kirk's plan moving forward for 2023 as far as, crypto payments? Is there anything like you guys wanna make an announcement about, or, some that just you're, some that you're really pumped about?
Man. So yeah, we're 2023. We're kicking it off. We're deep into our MTL journey at the moment, direct to merchant. What's cool about us is that we fit into any vertical, right? So we go direct to merchant pizza shop, sneaker shop we go. Agent is v i s o. We, anywhere you can fit us in we have a huge invoicing piece that we just put together that we have in the system for reoccurring invoicing.
So if you need to blast. . That's big for us pushing that and we're also going into the trader part. Trader is right now is where everybody needs it. In order for the recap of what just happened in twice in the last year, we got thumped Yeah. Really bad in the last years. Yeah.
We've reduced our pricing models so anybody can come in and give a, one trading pair to, and then five trading pairs and up and allow you to protect yourself against the volatility. . So those are, we're just trying to be out there helping people, I wouldn't say protect themselves, but also to, help guide them and give them the education piece, we're, that there is something out there that not all crypto is bad, and if it does drop, like it does, there is ways, there are ways to protect it.
Using our, I was just gonna ask, so for someone who's coming. , like for myself, like I don't have a, a ton of money. My portfolio isn't this, a lot. What are some ways someone like myself could, maybe set myself up for the tsunami? And on the, so there's the two pieces, right?
So the trading piece depends on, your appetite for volatility. Obviously if you have something in an exchange, You wanna make sure the thresholds are low. We, with our product, you can set that so that at a percentage drop it's going to, the machine learning will take a look at it and analyze a trade for you.
And if it is the proper time, it'll sell it off. It could hold it for a little bit longer. . And then once it does sell off and the price drops to where it should be, the AI will buy back in for you. So to accumulate the coins. All right, so we, all right. I need to, I feel like I need to do a rewind here.
So what exactly does CurPay do for your crypto? Okay, so we have patent pending technology called automated volatility protection. It protects you against the drops in the market. There's two different ways to look at that. Some people will say that's just, , right? So bots and machine learning are two different things.
A bot is pre-programmed, right? . And if you see a bot, they do three or four coins because it's a guy behind the scenes saying, okay, if bot Bitcoin do this, if something hits X right? And then it's gonna incrementally just sell off every time it hits X. Well, with our AV. , if it hits a percentage that you set to your risk threshold, it'll go and sell it.
It'll say, am I making the right decision at this time? If it says yes, boom is gonna sell it. If it says no, I think that it's gonna go down a little bit further. It'll wait and then it'll sell. So it's constantly thinking, and then what's gonna happen is the next time. So there was a. , it's going to X time, it hits that marker.
It's gonna go back and say, did I make the right decision on that previous sell? And then it's gonna determine by itself, Hey, I think that we can hold onto this just a little bit longer to ink out a little bit more revenues. And what's also great about the AVP is that it's not an, it is not a sell, an accumulative number of.
The AI is gonna take a individual sell and then go match it against the buys that it has done over a period of time. So each sell and each buy is gonna be matched up perfectly for you to maximize your return. So one of the things, one of the things me and Justin always talk about on the podcast is, financial education.
So sometimes we talk about financial education, personal. Financial education for business is most of what our topics are about. Oh, you're gonna start a business and what do you need to know? From the financial standpoint of, forming a corporation, getting bank accounts, getting a merchant account, using accounting software and all these, different pieces, and then so do are you got, and then, also we'll get merchants, when crypto was on fire, we would get merchants, they would come to us and they'd go, oh, we need some, we don't know anything about crypto. Give us some crypto education. And we did a few podcasts and some of them, More like webinar style.
We did yeah. We're not an expert at crypto. not an expert on crypto. We're not, we probably don't wanna be given financial advice either, so that's probably no. But we were more or less explaining oh, your customer comes in, you're selling an item for a thousand bucks.
they want to pay you with Bitcoin and this is what happens. So we explain like the process of that, but are you guys getting involved? And like I just went to a convention like called Financial Brand where they're, it was all banks and one of the big subjects they were talking about there at Financial Brand was, the lack of financial education.
The lack of understanding from people, like what does it require? How can I. Get myself a good credit score so I can get a credit card, so I can get a bank account, so I can get a mortgage, so I can get a car loan. What is, what does that, what does all of that look like? And what does that look like from a financial education standpoint?
And are you guys doing anything or do you guys, are you guys planning on doing anything to provide some like crypto, education? Because that's one of the things when we talk to people, they're like I don't understand crypto. And a lot of people blindly, oh the Dallas Mavericks are gonna accept Dogecoin, and everybody runs out and buys a Dogecoin.
That's do. , what was that? A c movie. Theaters gonna take Shabu. the Sheoo coin. And then everybody's running out buying AMC stock and buying shabu coins. And then I forget, there was something else going on with the shabu thing. And then, and then a lot of whatever they call 'em, the Mimi Memecoin Meme coins.
The meme coins, right? So there's tons and tons of them out there. Yes, sir. And I really think that there's like a lack of, financial education on all levels, in high schools and, for young people to learn about financial education. Even, banks are trying to teach people financial education.
I'm trying to do, give people, we've done a few podcasts where we educate about, , financial education for business. So where can people get financial education on like crypto, like even like spying stocks, right? Yes. People don't know, like, how does the stock market work? How does the bond market work?
How does the CD work? How does crypto work? Yeah, there's Chris. Let him answer please. I know. Yeah, I get it. So there's a lot of educational sites out there, CoinDesk, crypto News coin Telegraph. There's a lot of financial, not, informational crypto sites that you can go look at on the internet.
Does CurPay have any Roadmap for that. Yes, we were just talking here. Q2, q3 se webinars, this is how you use our software. When it comes, if you're entering the crypto market, I, you need to do research. It's like with anything, stocks and bonds, crypto's the same thing. They're, it's what you can put into it.
Be sure that you can afford that kind of deal. So it's the same thing along the lines, stocks and bonds. . But yeah, kepe does look to do that. The merchant piece is pretty straightforward. Everybody's in that industry gets that part right. But when you come to the trading piece is a little bit more intricate.
I was not a trader. My partner is an avid trader and when he came and said, Hey listen, we're gonna put Kepes in the market. , I was the Guinea pig on that. And then if I can do it, anybody can do it, deal, right? So once you get in there, it's first finding what you're interested in, your your appetite of what you can, get into as far as coins go, finding an exchange that you're comfortable with that has reputable backing behind it, and all of that kind of stuff.
and then would be to find a product if you're gonna not just hold it and ride the wave of the volatility that you're also comfortable with, right? That has some backing behind it and some people that know what they're doing in order to help you with your money market strategy. Indeed. One of the things I'm bullish on in with crypto and I'm, and still even today if a merchant came to me and said, Hey, I need to do a bunch of international transactions.
Yes. Because I always tell people, we see a commercial on TV and they go, oh, visa, MasterCard, American Express, the global economy. I tell, yeah, that's a global economy until there's a charge. No, when there's a global economy, if you're sell, like I'm in America, right? Let's just say Justin is in Brazil.
Yeah. And then he wants to buy something from me. If I take a credit card from Justin and he wants to do a chargeback, literally you have no, there's no protection. Visa guard are not coming to the rescue on that. And that's where I come, that's where I talk to merchants about, and I go, for those transactions you need to.
Look at crypto because the other alternative to crypto is, doing swift transfers and bank transfers and these international wires, which can get very expensive. Plus they can take days and days to clear into your bank account, right? Because you get a, Justin sending me a payment from Brazil, he's gotta do a currency exchange and it's gotta go out to another.
Like the whatever, the Central Bank of Brazil, cuz Justin's in Brazil today. in Barocco, right? Huh? That's a big piece. Cross border payments is massive. And I think it's, I think that I think that could be the thing that, should it be attracting merchants today is that, if you want to do cross border payment, you've, you should be seriously looking at crypto because it's very safe.
Plus the people I see, like in Europe when I talk to clients, I deal with a lot of clients in Europe. Sometimes I have to wake up at four or five in the morning for a Zoom meeting, which is, can be a little bit annoying. , yes sir. I make sure like I'm totally awake, to be on the call with them and.
We'll be talking and I'm, and they tell me about crypto that you know about, like they're doing crypto transaction, a lot of crypto transactions in there with their B2B stuff because they just, they know that it's safer for them. Nobody can do it, there's no chargebacks. They get their money right away and it's very interesting how even over there they'll tell me, they're like, oh, people will go, They'll get like a stablecoin and hold the stablecoin and then as soon as they're ready to buy, let's say $20,000 worth of goods from them, they'll go buy the Bitcoin and do the transaction like right away.
Yeah. They're not working on to the Bitcoin to do that. They have it held like either in cash or a stablecoin, and then they're swapping it out for Bitcoin and then running the transaction. You'll probably see that a lot and you'll probably see that go into the banking. So that's ripple, moving that kind of weight around through the banking system in order to get mass volume of mass transactions quickly to, to, like you just said to you or to Justin or Justin Vice, vice versa.
Here, Alan, here's my money. And within a minute, you know that you have it. And then you could send the goods the same day. There's no, the gap you've mentioned it with the payments, right? With Swift, it's a three day thing, and then it's getting it shipped and packed and ready to go. If Justin's a good customer of yours and he's gonna send you a stablecoin and or a Bitcoin, the next time he calls you, you could have that stuff packed and ready to go on the dock.
Exactly. And then comes out to him that day. Yeah. And you're not worried about him doing a charge back either. No, it's not us. People don't even realize with wires, with ach, with swift payments, someone can reach back and go into the bank. Of course they gotta, cause they gotta go shake the earth, right?
Yeah. If you're transferring around, 50, a hundred grand, that's why I was saying like, we had some guys in jewelry businesses and they were selling jewelry from, United States to Israel, to Brazil, to Columbia, to here, to there. They were doing it all with Bitcoin. , it was all being done with bi, it was all being done with Bitcoin.
Just the beginning. Yeah. And I think that needs, the luxury, not the luxury, but I think the cross border is I think that's gonna be the, that needs to kick back up again, yeah. And the US merchant shouldn't be so scared of it because they can get fiat in their bank account.
They don't have to worry about holding onto the. And we have a website that has land that's our hook too. Let go. Sorry, Justin. It's okay. I said the old guard just needs to let go, man. It's okay. Yeah. And that's the key with, so the CurPay way is that we give you your cash, right?
So no, the merchant doesn't have to worry about any of that volatility or lift of all ramping or exchange or anything like. We just send you your cash. Yeah, so we have a website, nps coin.com. You know they can come there, you can get signed up and we get you hooked up with Carpay and then you're ready to accept, you're ready to accept crypto at your business.
No matter what kind of business it is. The invoicing piece is amazing. So you can send people an. And then they may, they click on it and then they pay. And I remember I saw your guys' demo was really cool and then they can, and then if they're not ready to pay, they can come back to it later.
Click again. And that's so we've added a new one. So since we've thought last audio is p2p, right? It's, it is one line of code. You put it, embedded it in a button, click it, and then you, anybody can send you money through just a simple line of code, no tech. Wow. That's pretty amazing.
Yeah. So it's like a tipping function. Oh, a tipping function. Man, we've been on here for about 45 minutes. Is there any final questions you want to ask him? Alan? Nope. I'm good. Is there anything else you want to talk about? Chris? We hit everything. Yeah, we did. And it's we appreciate what you guys do.
Your show is amazing giving, you talk about education and people in the marketplace, and you guys do that every week. So from us to you, thank you very much. You're helping not only us, but the others out there to get on. Thank you, man. All right. Thank you. Thank you, Chris, for joining us today on B2B Vault.
Thank you. We haven't done very many interviews, so we're like working out, like the format of our it went really smooth today. The beginning was a little hiccup with the sound, but the, it went really good. The internet connection's been pretty good, so I'm pleased. I give it a two thumbs up.
Guys are amazing. Thank you very much for your time and we appreciate it. Thank you for letting us. All right. Peace out everybody, guys. See you later. Cheers. Bye-bye. Check Friday. Woohoo. See you. See you. End the broadcast. Alan. Thank you, sir. You guys . Hello everyone. We'd like to take this time to thank our sponsors Nationwide Payment Systems and NPSs Printer.
We'd also like to shout out the listeners and everyone that subscribed to our YouTube channel. Thank you for tuning in. If you'd like to reach Alan or. Head over to B2B vault.info where you'll find two forms, one to contact us and another if you're interested in becoming a sponsor. If you'd like to sign up for a merchant account, click the Apply Now button located at the top of the page of B2B vault.info where you'll answer a few questions and you'll be on your way to processing payments in No.
The podcast is available on Spotify, iTunes, Pandora, and other popular streaming networks. Thanks again for listening.