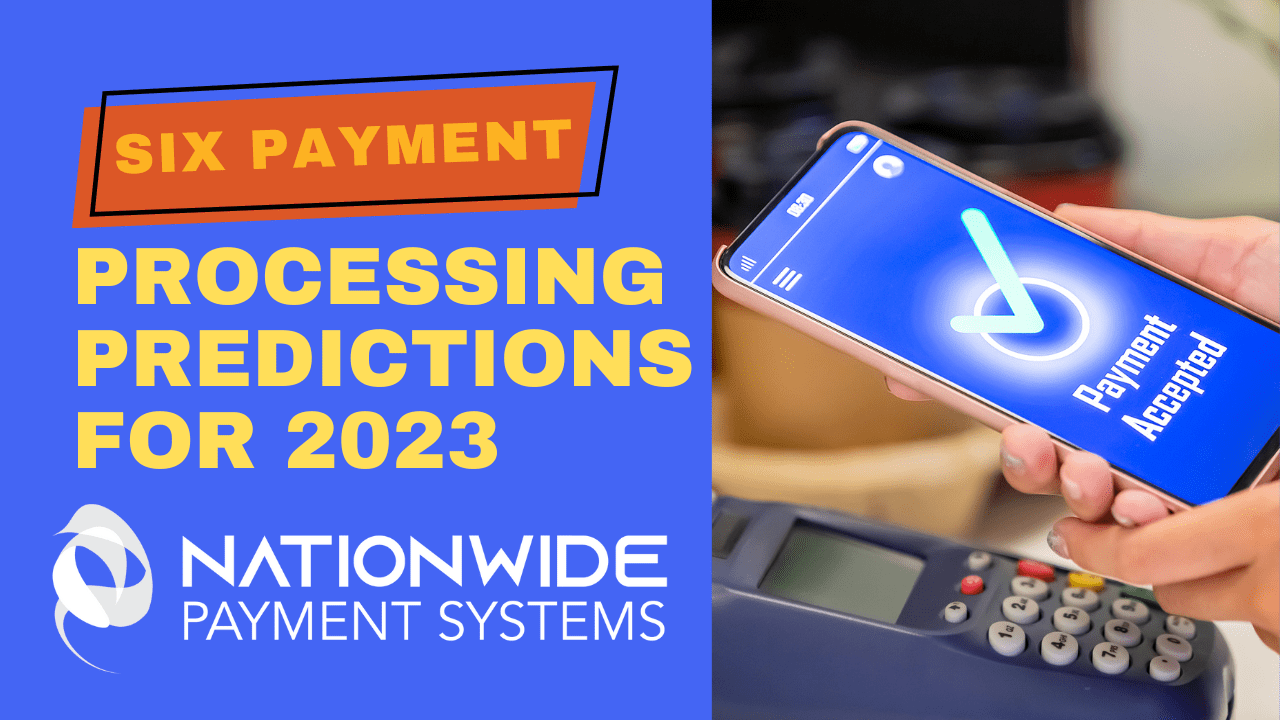 Yo, what's up everybody? It's Justin Live from B2B Vault, the Payment Technology Podcast sponsored by Nationwide Payment Systems, hosted by the Merchant Service Sleuth himself, Alan Copeman, and we will be providing you educational information about FinTech. Small business payment processing and the technology businesses use in the world today.
And in today's podcast, we'll be talking about six payment predictions for 2023 from Alan himself. There's a lot of predictions and trends and all types of things that are going along through the internet, but None can come from the man, the myth, the legend other than himself, Alan Copeman, the guy's 20 years experience of merchant services.
He's literally seen every trend, possible like he's been around since payment processing started. , listen, I started with the knuckle buster and the piece of a see the knuckle buster . I probably, I don't even know what that is, and it sounds, Yeah, was this machine, you put the credit card, then you put a slip on there, then you went, oh, I remember that.
And then you had to go through a little book and see if the card number was all right. Yeah. We have a whole nother podcast about the history of payment merchant services. Yeah you go down, we, it's like a, yeah, we did that. It's like a history lesson. Yes. Yeah, we did it. History, lesson of merchant services.
No need to go back into that. In, in today we're gonna be talking about some payment predictions that you have. We'll talk about the current state of payments, the payment industry. So let's get into that and explain why 2023 is shaping up to be a year of significant change in the payments.
There's def there's definitely gonna be significant change in the. A lot of things that's changing right now is basically the consolidation that's being allowed to happen in the industry. Every, what do you mean by that? So companies are getting bought up and merging. , so there's companies that are becoming behemoths.
Yeah. Very large. Cuz they. There's one company I saw they've purchased probably about nine, eight, or nine different companies already, and they just purchased another one. And then another company just purchased a whole slew of companies. And this just keeps happening more and more.
And also banks merging together through investment. Ha, by having a common investor. , on in the, on the ba, on the back end of the bank. Yeah. And then that investor group is now invested in three of the largest. High risk banks. So that's making it harder for merchants to get merchant accounts because now those banks are all interconnect, intertwined with each other.
And then they can see oh, Justin has an account here. Now he wants to open an account over there. And now it's almost like the same. I don't like it the way that sounds. It's getting a little bit muddy. Yeah. It's get, it's muddying up the waters and it's also not, I don't think, personally, I don't think it's good for the business to keep, for them to keep allowing this, I agree. Just like the merger of T-Mobile and Sprint, you took one, telecom Yeah. Telecom provider off the table, and then you're just left with, you're just left with, at and t Verizon. . So where are we at? Considering like the current state of, I think payment is, the bus, the business is just gonna keep changing this business changes all the time.
It's who moved my cheese? And I think that we're gonna see some really significant changes in that. You're gonna see technology make a huge leap this year. Where merchants businesses are not gonna have to have a physical credit card machine soon. There are a number of software companies that have come out with, apps, scan a QR code, make a payment.
Soon you're gonna see like the newest Apple phones, the newest Android phones have NFC chips in 'em. And originally Apple and Google were not. So you'll be able to go like this? Yeah. I'll be able to take my phone and get your phone. Your phone. Where? Phone. I left it outta the room so we don't hear.
Beep, beep. Lost an opportunity. Would you be able to take your card and hit the phone and make a payment? Take my card out. Make a tap and pay. Tap and dip. Dip. No dip. No dip. Just. Just the tap. You're not gonna need the EMV reader, the little square box. You're just gonna go right card to phone or phone to phone and make a payment.
And I think that apple and Google letting outside developers now. Develop on that because it's about time. I think that the the the Visa, MasterCard and who else, whoever governs that said, Hey whoa, you can't do that. And now also I think another thing we're gonna see is we're gonna see.
More wallets get developed. We get into that. We're getting into, we're gonna get into that. We're getting into that. But we're so like we're talking about right now. Right now, that's what we're gonna see the next, the first trend we're gonna talk about is realtime payments. And realtime payments, I think is gonna come first for the big businesses this year.
We're gonna see bigger businesses. get to offer realtime payments between for large transactions, cut out the wire transfer. , and go to re go to realtime payments. I already see a few FinTech companies talking about it. We have this thing fed now, and now it's just a matter of which. ACH providers and banks are gonna, what is a realtime payment?
A realtime payment is, let's say Justin owns a lumber yard. , and I have a building company and I'm gonna buy a hundred thousand dollars of lumber from Justin. So instead of me going to the bank and I gotta do a wire, Or have a special fob on my, a little fob thing and I gotta go, on my computer and then do the whole thing with the wire, or you gotta go, , you gotta send the wire.
I gotta send the wire to Justin, right? So instead of doing that, it'll be like a real time payment where Justin would be able to send me a text or an email. I could just click on it, link log into my bank account, and boom, send him the, send Justin the money. And instead of it's taken overnight or a couple hours, seven to 10 business days.
Depends on how you're sending the money. You'd be able to send it Bank. Bank to bank trans. Instantaneous bank to bank transfer comes outta my account, goes through the Fed real quick, hands up in Justin's bank account. So what's the difference between that and ach? Yeah, so ACH has to go through a whole settlement process.
The a the bank who's run, let's say you send me a request, an invoice, and I pay you via ach, my bank account. The ACH company then has to suck the money outta my account, and then it goes into their bank, and then they pass it through the Fed and then it goes to your bank. And then in that process, I could stop the mo, I could stop it.
The fed the instant payment thing. I think that they're. not moving as fast because of all the problems with Zelle. And the p2p. You can't stop that. There's no charging it back. You send some, I sent you some money from Zelle, there's, I can't get it back unless you're a nice guy and you gimme the money back.
So what's the, what are some benefits from the realtime payments that the be The benefits are businesses money moving faster. Between businesses and I don't know if it's gonna make it down to. smb, small medium business market this year. But yeah, talked about that. You're not gonna go and spend $10 on a cheeseburger and then yeah, do a realtime payment.
Smaller wholesalers, is it gonna reach down to that level? You know what I mean? A smaller wholesaler, but also it depends on the. Participation of the banks. So the big banks are participating, but I feel like this isn't the first time this has came around. No, it's, I remembers paid by bank thing when I was like, there's still a lot of bills that you could pay by bank right now.
Yeah. But it's done through ach. It says it's by bank, but it's not like immediate. No, it's not immediate. Okay. Yeah, they taught, they used the wording, oh, pay by bank, pay both your bank account. Yeah, but it's going through the ACH network. Okay. It's not going, it's not going poo well, there you go.
Real time bank to bank, but. . It's interesting. The one thing about it is like real time payments. If you're using it an SMB and they're doing five, 10 payments a month, day like that, they're being sent one by one. So now you're getting all these deposits into your account. So that's something that somebody's gonna have to figure out.
Oh, if you're doing. One or two. Okay. That's easy to manage, from a bookkeeping standpoint. But if you're doing 10, 20, 30 of these a day, you don't want to get all those deposits. Your bank, bank accounts are charged by how many deposits you get. So what do you think are like the driving forces?
Of getting, people to get on board in businesses to use real estate? I think the banks don't really want people to use it right now because they're gonna lose out on wire fees. They're gonna lose out on people using their credit card possibly. And that's that the banks are they're the ones roadblocking this thing.
That's when it all, like for me, like when it comes to FinTech and banks, it's like they're just Muhammad Ali or Sonny. Listen, look what's going on with crypto now. Now crypto companies are getting kicked outta banks left and right, so you know this is what's happening. They. , banks are blocking, ev blocking a lot of different, a lot of different, they're fighting with FinTech.
They need to figure out how to embrace, they need to FinTech Mary. Yeah. They need to make it figure out how to work together instead of working apart. Agreed. And the same thing, like the real time payments thing. There could be a ton of fraud with that. , great. And that's a problem.
And the banks are looking at that oh, do we want people transferring? Do we want Justin requesting a million dollars? And then somebody on the other end is a scammer and they're sending a million dollars from, a B companies bank. Into Justin's bank account. Justin takes all the money out, transfers it off to, makes a transfer into another bank, and then to another bank, and then off to the Cayman Islands or something, and then poof, somebody's money is gone.
And then there's no, security in the way. They gotta work all that out. It all sounds good, but look at Zelle right now. There's a million zals in a multiple lawsuits, right? Multiple banks, bank of America, Wells Fargo, they're gonna lose that lawsuit. Who is the banks? . Oh yeah. They're being sued.
The government, Elizabeth Warren and the judiciary. I was reading a really long article about that. They basically at this summary was like, they can't do anything. There's nothing they can do. They're gonna have to just pay up. The banks are, yeah. They got, there was, there's, they're trying, the banks were trying to say, oh there's a difference between fraud and a scam that you fell for a scam.
They need to do something. One thing I don't like about zealous, so let's say. I add you to my account, I get a warning. Then I'd say I send money. There's no button to press, somewhere to go, oops. I sent the wrong amount. That's the only thing I don't like about it. There's nothing in the only, there's nothing in the internet world, there's no, you can do that clip.
That's what I'm saying. Besides an email. Shout out to Google. They made you, you can retract your email for three seconds or something. You gotta be quick on a draw. Undo. Used to be able to undo a lot of email. Not so much anymore. No MAs. But the thing is that they've gotta figure out how not to have fraud happen.
All right. That's gonna be the challenge. You also predicted that the growth of mobile payments are gonna Yeah, blow up. Mobile payments is gonna continue to grow. We have a ton of bus, you have a ton of businesses like the big buzz. The ending of the year was solopreneur, solo solopreneur. Yeah. That was a big buzzword at the end of the year.
A lot of people outta work side hustle starting a business by themself. Or it's a husband and a wife or a boyfriend and a girlfriend or two friends, or just somebody by themself. And they go, okay, I'm gonna go fix computers if the economy is definitely forcing people to Yeah, the economy.
Figure out ways to make money. Yeah. Influencer the influencer economy, it's going to continue to grow. People are trying to become influencers, become and obviously they're gonna have to figure out how to get paid, right? Yeah. Relax, keep going. Some podcast stuff happens. You gotta, the podcast stuff happens.
Yes, sir. Okay. We're having a distraction. No, but we're gonna, I think we're gonna see some d. Some different things when it comes to mobile payments. We're gonna see companies, like I said, using that phone, not having to buy equipment in a bank phone to phone transactions. And other types of mobile payments.
Text to pay, continues to grow, email to pay, e-invoicing, all of those are forms of mobile payments. Absolutely. And then now like the economy is back open, with people going out into public. So you go people, more people are gonna go to art fairs, go to farmer's markets, go to craft fairs, outside events.
And at these outside events, you go to. I don't know the name. It's in West Palm, the amphitheater, I think. I think, I don't know who's, what the name of it is. Never Whoever sponsors it. When you go there, it's a, it's no cash. You gotta pay with, you gotta, so everybody's running around with their phone.
Oh, you need a beer, apple Pay, you need a pretzel Apple Pay, you need a thing? Google Pay. Where is that? The amphitheater in West Palm Beach. Like all the food. It's cashless, no cash. It's every. whenever they have concerts there. Oh, okay. Yeah. So whenever they have concerts, I thought you were saying, I thought you heard.
I heard. And that's all mobile payments. Mobile payments. But I also think I was telling you with the with the mobile payments and the next thing we were gonna discuss and mobile payments is increasing with consumers. Consumers are used to paying with, paying a mobile business and things like that.
They're not turned off by it, they expect a person to take out their phone or an iPad and a little device, and soon the device will be going right. And contactless payments. The same thing. Growing. But the one thing. I was on this list about the digital wallets. I don't think it's on the list, but contactless payments is also includes digital wallets, contactless crew.
During Covid, we saw an increase of everybody doing tap and pay, customer facing E M V machine. So the, that enough, you didn't hand your card over, people using their phone to pay, tap and pay. I still don't understand how it's tap and pay. And then you gotta put. Your, yeah, put in your code.
It's not contactless, sir. Oh, if you have to put in your pin code. Yeah. Yeah. So that's weird. Why does that happen? Because whatever the business is doing to route their transaction, so they're route bigger businesses can do like transac, a lot of them do transaction routing. So if you swipe your card. and they see that it's a low amount, they'll let it go through under credit.
If it's a large amount, then they want it to go under pin debit cuz then it costs them less money. So regardless, even if you still end up having to put your, yeah, unless they don't offer pin debit. Pin debit in a lot of cases is, as expensive or more expensive than processing an offline debit as a credit card.
You predicted that the emergence of digital currencies will still, they're gonna come back. I think that we're gonna see a cha let me get finish up with the contactless payments about the we'll get, we can get to it later with the. With digital currencies, there's still a lot of people buying Bitcoin and there's a little bit, there's a lot of in still investment going on in that, and there's a lot of things going on with NFTs and people buying NFTs and using the NFT more as a utility than as a investment.
This stuff is so young, right? We're talking about, there is talking, you're talking about crypto and NFTs. within three years. We'll say just three years. Crypto has been a long ti around for a long time, but the past three years it has made leaps and bounds, right?
Yes. And NFTs have literally launched over like night, right? Yeah. Like last year. Last year. Around this time. Yeah. Went crazy when you talk at a town. Yeah. And anything that's like it's you trying to figure out how to use it, it's brand new. Yeah. And I love the way where the NFTs are going.
I like how Nike is using it. I like how Adidas is using it. I like how certain companies are, turning their brand into an N F T. And then when you purchase the N F T, it comes with things, incentives. Free concerts merch, just there's so many different things that they can be used for.
And I think that it's, we're, we've only seen just a very small por portion of what they could be used for. Exactly. And I think that, we might see like somebody, one of these companies figure out like what to do with stable goings and how to effectively use stablecoin as, the digital, a digital.
But that remains to be seen. I do think that we will see some sort of regulation. I think that they need to move regulation in the United States, similar to what we talked about another, on another podcast about how Japan handles crypto. How you buy your crypto on an exchange and then your crypto is moved to a third party.
Website. And that website is monitored by a bank. And I think that the United and the whole like commission, like yeah. The banking besides the bank, there's all there's just so much. Yeah. There's a whatever, a regulatory body watching. Exactly. And I think that the US has to move quickly.
and not fart around, and make decisions on how to do this so that it's done correctly to preserve everybody's money. We read a story about this Celsius, right? Yeah. And now it seems. I was telling Justin, I said, it's crazy. And that seems like all the houses that were bought with the state crypto, that's now worth nothing.
All those houses belong to that company. Yep, Celsius. And don't belong to the people in 'em. Now, some of the people that are in those houses, let's say they're living there, maybe it's possible that they have like squatter, right? . So I'm looking for, oh, there's gotta be some, there's gonna be some kind of court Crazy clause like that.
Yeah. There's gonna be some kind of court he'll end up keeping those houses. I hope so. Yeah. It's pretty sad. What's the, that whole thing is messed up and that all needs to change the law. There needs to be laws against that staking and the, something needs to be monitored in that.
But I there are companies prediction number five. Yes. Adoption of open banking. What is open banking? Open banking is where you'll be able to go to a atm, let's say a Truist bank, and make a deposit even though you bank at Navy Federal. . Oh yeah, that's op, that's the antithesis of open banking, but also op, just and then there's not gonna be any fees or there's gonna be fees.
There might be small, a small fee. Of course there would be a fee. But I'm just saying like Neobank. . What's a Neobank? Banks that have No, they don't have a branch. People don't know. So you use a Neobank, like a good neobank. USAA is one of the biggest ones. So they they don't really have, I think there's maybe a couple of branches in San Antonio.
Really? . Yeah. And, but. They just did a deal with our, at tm, the R A TM network, where now we can enable certain machines if they meet the criteria of U S and then CU U S A customers can go to those locations, use the atm, and it serve charge free fees, nice free ATM transactions, and they pay the ATM network on maybe federal has a few like that, like at Walgreens and.
A lot of them are linked up into different things called like allpoint Network or other networks where you get reduced fees or no fees at certain ATMs. And what's the benefits? The open banking benefits. There's a lot of, Ben, there's a lot of benefits cuz it's gonna make, it's gonna make banking more competitive, and I know that.
Because now you don't not necessarily need to do business with a bank that has four walls. You can do bank business with a bank that doesn't have four walls and you still have access to your, better access to your cash through the ATM networks and things like that. They can deposits doing other banking stuff, that remains to be at the end of the day.
You're still gonna need a bank though, right? Yeah. You're still gonna need a bank, but you might not have to go to the, I guess not because you're getting. I didn't finance my card through my bank. I didn't, I'd ne I wouldn't necessarily have to use my bank to buy a house. A lot look at look at Zillow, right?
They're buying, I don't have a credit card from my bank. No, but look at like that company, Zillow, that tells you how much your house is worth. They're buying houses, selling houses, financing houses, there's just a lot of FinTech out there. But I still say that people, when they, you.
They need to have, people need to have a regular bank account because they need to, you need a regular bank account, especially if you're gonna have a business. And I think that, . The banks that are out there need to do a better job of treating their business customers better. Cause the young consumer doesn't need a bank the way I need a bank.
Okay. I need a bank cuz I'd have to do physical banking. I need access to different services that you don't get from a neobank and someone that owns a business needs those things. Let's say even, let's say, let's decide, okay, I'm gonna. Partner with my son and open him up like a small clothing store, right?
Yes. Okay. He needs access to a regular bank cuz maybe he needs to get change, right? , because people come in his store and spend cash, he needs, maybe he needs a. He needs access to those kind of services. So that's where I think that community banks, credit unions, and even whatever, the larger banks need to figure out how to do a better job of taking care of their business customers.
On the side note, yes. You've said opening a small clothing store for your son a lot of times, right? And I'm just, you've spoken it into existence. If it's not happen, It's gonna happen, might happen. He's, he doesn't talk about that. He wants to have his own, you just mentally bring this up. No, he wants to have a clothing line, like a clothing line, like a streetwear line, and then put it in a store, hey man I'm all for being creative, right? One thing I see, the clothing, things, t-shirt brand stuff though for me is just oversaturated. And if he's got a niche that's one thing, right? . But other than like the street wear? No, no t-shirt market. What's interesting though is like you see these different brands like the, these clothing brands, like one of them is Untucked.
Yeah. There's one called Untucked. So they never had any stores, but now they have little tiny stores at the mall. Smart because people don't know do the clothes fit? I want to go in there and try on the shirts. Regardless, the whole shopping online, because they call that is different, right?
Yeah. Because every t-shirt size is different. I know. Like every brand is different. It feels different cuz I would like, they used they call, there's like a term that they've been using for a few years called showrooming, right? . So showrooming. . Oh, I know. They sell this like maybe at Best Buy.
Okay. Sell an item and then you go in Best Buy. You touch it, you feel it, you check it out. Oh yeah, I like this item. Then you leave Best Buy and you go home and you go, okay, who sells this same item? Maybe somebody sells. It's cheaper. Oh, that way. Cheaper on Amazon. I'll tell you a crazy story.
I went to go buy a tv, so I'm looking on. on online, and I see this TV at Best Buy and Go, how can they sell a TV for $499? And it includes like an Xbox I, I don't remember which. It was like Xbox at the time, a few years ago. It's like, how the heck do they do that? So I go to the store and I go, oh, can I buy this tv Rick with the Xbox?
Cuz I wasn't. Really, and they were like no, that's only offered on the internet . So then you went online and bought it. So then I went out. So the guy's oh, it won't work in the store. And I was like, what? He goes, cuz they can detect like you're inside the store. So I went out to the parking lot, I ordered the TV and then it was re then I left cuz it was gonna be ready to be picked up in an hour.
So the same TV that in the store for 3 99 for an extra hundred came with an Xbox. Wow.
Hello everyone. We'd like to take this time to thank our sponsors Nationwide Payment Systems and NPS Printer. We'd also like to shout out the listeners and everyone that subscribe to our YouTube channel. Thank you for tuning in. If you'd like to reach Alan or myself, head over to B2B vault.info where you'll find two forms, one to contact us, and another if you're interested in becoming a sponsor, if you'd like to sign up for a merchant.
Click the Apply Now button located at the top of the page of B2B vault.info, where you'll answer a few questions and you'll be on your way to processing payments in no time. The podcast is available on Spotify, iTunes, Pandora, and other popular streaming networks. Thanks again for listening. And people do that.
They go to the store, like I'll give you, for example, I wanted to get some new shoes, , these Sketchers, they're very comfortable for walking. Yes. I walk Rocky a lot. So while I'm at the office, I take 'em out for a couple of laps around. It's a couple of miles comfortable shoe for that. So I was like, oh, let me go try.
I went, I got a pair of Sketchers. I was like, okay, this is my size. . Now I just order it online and it's really funny. I didn't buy the, so the last time I wanted to buy another payer recently . So I went on the website and I was like I was thinking about it. Then something happened.
I didn't buy the shoes right away, and then within a day or two I got like a 15% coupon. Yeah. That's how they catch you. They know when your cart is expiring, take this 15% off. Yeah. So I was like, oh, I'll say 15% now. But the other, pay another color of the same shoes. Got. Sorry. I'm just saying like I became I don't going to the store anymore, but now like I want to buy some new clothes and stuff and I saw some shirts that I like and I'm like, do I wanna, you gotta find if they fit 'em, that's enough. I ordered a bunch of t-shirts before, like I was losing weight. I'm still losing weight, blah, blah, blah. But so I bought a bunch of extra large t-shirts. and I ended up basically having to throw most of 'em all away or donate. I didn't throw 'em away, I just donated 'em because I didn't have the rec receipt.
I didn't remember where, and it's because. , they're all different shapes and sizes. Yeah, every size. But it's all the same size, extra large. Every company like, like I'll get a this is a large fits really nice. And then I went and got another shirt somewhere and I got a medium.
I was like, I'm a medium. No. And I, it did it's fit. No, that's, it's crazy cause it's cut differently. Showrooming has been going off for. And it's gonna continue. People go in the store, they see an item, then they go home and they look up, they wanna look up reviews. People. They should be smart at like the storm, have a QR code and oh, read the reviews.
Especially when you're buying something, know when you read, review. But I don't know. People wanna read a review. Yeah. They want to see especially spend two, 300 bucks. But open banking, you also, but open banking is also gonna get bigger because we're gonna see more kiosks. Kiosks is insane.
I was reading a article the other day, this is Beyond Kiosk. I read about some restaurant that's in Fort Lauderdale. I want to actually go there cuz I've never been served by a. , but they have a robot waiter. What do you think about that? Who does a restaurant that like there's these robots. My friend went on a cruise ship and you order a pizza on your phone and then a ro, the robot comes after.
Where you sitting? I'm sorry. No, but I'm on my phone ordering a pizza. Sitting in the bar. Yeah. And then a robot comes and comes up to you and they can track you by your phone. So if you left and you went out into. lobby, it would go find you to go bring your pizza. That's amazing. So I think it's gonna give the LA more weirder in the next couple of years.
But I think we're gonna see K, like I was just on the phone with some guys today and they were talking about their kiosk. They're putting together a kiosk and everybody's talking about kiosk for all kinds of self-service stuff like putting a kiosk in a business. So you can walk up and instead, and you wanna buy the t-shirt.
right? From a, let's say you're in a bar or a restaurant and you wanna buy a T-shirt, instead of them having the T-shirts like all set up we went to eat at that restaurant and I wanted a coffee cup, right? , it was a whole process to buy a coffee cup. Remember? That was ridiculous, right? It was a whole process to get this coffee cup right.
So then to make it easier, these places, they need to put it on the phone, buy the coffee cup, boom, and then the waiter can just come, bring it to you. Like stuff needs to happen. I don't know. But we were sitting out there for 20 minutes for two coffee cups. I was getting, I was sweating. It was hot.
Just got finished eating. Yeah. Why do you wanna stand outside? Like I'm sitting here what is going on? But I think like the open banking, the kiosks are gonna help banks. This is one thing, like an opportunity when you talk about open banking and banking in general, and like we talked about, the small banks and the community banks and like local banks, I think that they need to also take advantage of opportunities where, let's.
you're, let's say I'm the bank of Allen and I'm located in the city of wherever, Allen, Florida, right? And then Justin comes into the bank and he says, Hey Allen. the bank guy. I need to get an ATM in my business. So instead of Justin just going to some random ATM company that the bank should work with.
Nationwide payment systems. So we can get your customer the at tm, and then you could advertise on their ATM and put it on your thing. On your bank website. Oh, go to Justin's barbecue barn. And the ATM is surcharge free there. . So Justin, because he's putting the money in the atm or the ATM company gets some money from the bank, right?
Whatever a fee, a dollar or something. For doing that. And banks don't think about establishing their footprint that way. You might not want to take deposit. You're not gonna take deposits. Basical, they're so old school to me, but just to take money out. They don't think about the network of businesses they have.
So let's say you're a bank. I don't even think they. They should care because they're losing business to these FinTech banks. They need to take back their real estate, the real estate that they already have. You know what I'm saying? I agree, man. There's, I, there's definitely a loss and kiosk opportunities here, and kiosks also put kiosks out in the community.
Okay, you're con you do the bank. Let's say I'm a the Bank of Allen, and then, oh, I do the bank account for the city of. , right? So now I say to them, Hey, we want to put a kiosk in your lobby. And on the kiosk, someone could o possibly open a bank account, get a credit card, find out about a loan, things like that.
Maybe you don't want an at t m there cuz they don't have atm, but maybe you want to put a kiosk there. Yeah, ma'am. Or these ATM with a sidecar Next. That's your, essentially has like your banking services on it or something like that. I think people need to, banks, neobanks, whoever needs to look at the needs to look at the real estate of that.
And and in your final not final, just we could have kept going predictions all day long, but the continued growth in e-commerce payments, obviously. Ever since 20, the Covid thing, e-commerce. Went crazy. Yeah, I we're seeing e-commerce payments go crazy. Marketplaces. We're talking about the Facebook marketplace, other marketplaces, online retailers digital platforms.
I Listen, everything is grown. The other day I see this thing, oh, get this software if you're a digital creator, and then people can, you can sell your stuff on there, and everybody's like promoting these , like little websites where Yeah, I know. I understand. Go sell their stuff on there.
I never even heard a half of these platforms. I wouldn't mess with it, but no, but I'm just saying and I don't know what, what are most of these people are selling, like coaching classes and stuff like that. I don't know what they're selling. , whatever it is. Or gadgets. How to make $3,000 a month with chat.
G p T, right? ? Yeah, that's the latest one. It's pretty crazy, like how to make money with ch using chat. G B T I was watching side note about the chat G B T thing I was watching a interesting podcast about it. The guy has his podcast and he was talking about it. And he was saying how that the tools that are already available for you to run it.
So if you're out there and you're buying content from people and you want to know if it's been written by, an AI chat bot, there's websites for you to put, paste it into there. Yeah. Copy and paste it in. Yeah. But they'll find, they'll tell you right away if it was written by ai and they'll give you an AI score.
Yeah. And then also he was saying how the watermarks on there, on the chat, G P T G B T G P T specifically is within I don't know, the next couple days here, they're talking about. updating the system so that there'll be a watermark on the digital watermark on all, everything that you get from chat g b t.
Wow. That'll be a big, that'll be major. Yeah. I saw, because Google doesn't want this, right? Google, like all like the, this, so like all the, Yeah. The, The major search engine is, they don't want you to use. AI generated content, right? Because it's not a human, it doesn't have any me experience or knowledge about the topic.
So I get it. As a SEL guy, I've been dealing with this for 10 years. Yeah. But the other thing is that we saw like some, I see all these TikTok videos, right? So there's one where somebody posted a website Future, something, I don't remember the name of it, and then it had every AI. Website on it.
There was hundreds and hundreds of 'em, and then I read a story about it and it said all of those websites basically took the. , the open intellectual property, right? Yeah. Open ai.com. Open api. Yeah. They took it and then they wrote their own program on top of the chat. G B D. Yeah. That's why Chat GBT came out and said, oh, here, we'll just give it all away for free.
Cuz they were getting, I think they got upset because it was a bunch of these like contact companies who were. Come they were getting money for it and they said No. Here. Poof. They just opened it up to everybody for free. Yeah. I don't know. Anyway, I feel sorry for all the people that started those businesses.
Yeah, sorry. Know you got a little money grab. Good for you. Yeah, but I think we're gonna see the continued growth of e-commerce and in fact, I was telling Justin, we started talk, talking to, I've told Justin a while ago, I go, you had. See a natural progression would be somebody has a wet normally I see oh, you have a point of sale system with all your stuff in it, with all your products in it. Yeah. Like your point of sale, and then you want to take, and you have your pictures and all your items in there. And then there's been a few companies over the last couple of. Where you could get, take that whole database of your information from your point of sale system.
From your point of sale, and then send it over to a shopping cart program. And then put it in and then that it'll input that and create a website for you basically. It creates the shopping portion of the website. Okay. And then you have to have a. To attach it to attach it to, and then whatever you link in the payments and all that.
So we had a few people do that over the years, not that many, a few. And then I said to Justin, I says, it would be really interesting if you saw somebody take WordPress and then reverse engineer it into a point of sale. And then I start started. I kept researching for a while oh, are there companies doing that or, And then finally, boom.
I see one company did it well, woo Commerce did it right? Woo Commerce did it. And you remember when you sent it to me. I was like, I've never even seen this. And then they had it, but it wasn't doing EMV payments. So then I'm like, how I'm a, I've been building right websites for a decade. I'm like, yo, how come I've never heard of this?
And I did. I remember, I remembered after reading all the review, I remember helping a customer set that up. Yeah. And it was just terrible. It didn't work. It was very slow. It would constantly time out. Just, anyway. Yeah, no, but that makes, I, there should be a system like that in place for sure.
So now I saw that there's a whole bunch of companies trying to do it. Because finally WooCommerce, who, whatever, they let the, they've let their guards down. No. They opened the, they let people develop on it cuz they only linked up stripe to it. So not everybody's gonna go to run to Stripe and run to Stripe.
But the other thing is you know, these other developers that I see that are working on it, they're in other countries, but I have an appointment with. Coming up and what they're doing is a little bit different than the way they did it. So they're ha they making okay, we don't wanna say what they're doing,
Yeah. But they're making it, we're talking to them about integrating the payment system that we run onto that so that we could go out and sell that to. , that's what we want to do. Because I think that it's, that's a more, I think that's very efficient because let's say, because just imagine all the brick and mortar clothing spots that are open that don't have websites, right?
Because they can't operate them. They don't know how they even, where to start, how to get it going. Who should call Ghostbusters, whatever. But yes, this, that will be a great tool for small businesses if they. , upload their merch inventory straight to some sort of, yeah. Shopping cards content management system is what it is, right?
Yeah. Content management and then, click yeah, go live. All sudden, boom, you got a chop website, boom. You got point of seven. But just think about, let's say you're, let's say you have a website and then you wanna also sell face to. Now you can take that, put it on a tablet. Boom. You got a payment system, you.
Full blown payment system to take payments and keep track of all your inventory. Yeah, that I, when we were talking about it the other day, I was trying to figure out why this isn't bigger than it is, and I have, I can't answer it. It should be, I just don't think it's been Ava, I don't think it's been available and a, I don't think people have like really set think that it would be something that people would utilize.
I don't know. Because it's there. It is there we did. You know what I mean? It's there, but I think it just doesn't. That's why we gotta see if it works and test it out. But I'm just saying it's interesting because I think it's it's like a natural progression to happen, but I think we're gonna definitely see all types of any business today.
You gotta get your products online. You need to spend money and get a website. Let me tell you three things growing with e-commerce in-store pickup. Curbside pickup and ship the stuff out. Or even local delivery in some cases. Man, I like the local delivery thing a lot, right? Like local delivery. Like I saw a thing now where you can call Uber and they'll go deliver something for you.
Yeah. Postmates will deliver stuff for you. So people need to figure this stuff out because people are just gonna go to bigger businesses to go buy their stuff unless you're gonna do it. And if you're not gonna do it over time, you're gonna lose money because as the demographic of your customer gets younger.
Yep. , you're gonna lose. You're gonna lose business. Granted, my mom's 87, she loves to get in her car and drive over to Costco. Nice. Now I like to go to Costco cuz I like to pick out my food. But almost everything else that I buy online because I just don't like going to the store anymore.
But you buy groceries for one? During the pandemic I bought groceries online. I went to, I'll never forget this. I got in the car. I drove over to Costco like 20 minutes before they opened. There was literally like 300 people. Oh my. There was a line. Then I went to Publix and there was a line. I was like, I don't know if I can wait in this.
I don't have the patience wait in this line. So I'm like, okay, I'll go back later. I went back to Publix later. The line wasn't so long. I waited about 30 minutes to get in. Got in there, got what I needed, got the heck out of there, and then I said, I gotta figure out how to get groceries. So I figured out a trick.
Doesn't matter. I can tell it now. So I used to order, I used to go into the Instacart, put it at night, put together my food order, everything. Then about seven in the morning, I placed the. at seven o'clock in the morning. Smart . So now what happens is, this is how I figured it out.
Cause that what happened was, is. Then the guys, let's say Justin is an Instacart guy, right? And he's gonna do, he look, he sees on Instacart, Hey, Alan just did a order. Poof. He claims my order, claims another order, claims another. Ah, now he's got three, four people. He's got Costco is super smart Costco for, and the Costco was letting the Instacart people.
To go do the shopping. So then they shout out to your house, figuring that out, man. And they dropped it off. Then I told a few of my friends, I didn't want the secret to get out cause I don't want everybody stealing my delio. But that's how I survived because I was like, I'm not waiting an hour in the thing.
And they were only letting a few people in Publix at a time. But e-commerce people need to figure out this E-commerce. I always tell, a story from when I was a chef and I worked in the hotel business. And my, and we had this advertising company come in and the advertising company told me this story, and I'll never forget it.
He told me, he goes, people hear something eight times after the eighth time, whatever story you're telling them, that becomes the truth. Whatever you're advertising to them. That starts to get No, it starts to get ingrained. Yeah. Ingrained in them, oh, the Melrose Hotel has the best Sunday brunch. If you keep advertising that, that's the best Sunday brunch, people start to go, Hey, that place has the best Sunday brunch.
Because every time they see the ad, it says the best Sunday brunch. And they see this picture of all this amazing food. . So the same thing. The same thing goes for everything else. The, and then also people develop a pattern, right? Of going to a certain place. I'm sure there's certain restaurants you like to go to, certain thing places you like to go, and that becomes a pattern.
Now we've been set in this pattern for the last two, three years. Shop at home, get the stuff delivered boom. I know people, they won't only go out to eat and sit outside. They will not sit inside. Yeah, I don't go out to eat. No. I'm just saying some people don't, won't go out to eat at all anymore.
Some people are on a food plan or special whatever diet. I don't diet like to, I don't like to use the word diet and food plan because it's not diet. Like it's my. Food. It's a food plan. Food plan, yeah. Yeah. You're on a food plan or your health plan, whatever you wanna call, it's your food plan.
That's what I call it. Food plan. So you're on your food plan and that's it. But some people don't want to eat inside anymore. Restaurants have to figure out how to accommodate that. And I see successful restaurants, the place has outside seating. The inside maybe is not so crowded. They don't put every, all the tables on top of each other like they used to be.
Not anymore, no, because people don't like. And if it is like that, people don't go to those places. Nope. I notice it all the time. Like I'll see a restaurant with crowded seating and people no. They want to award people. Everybody's sitting outside. And then the other thing is the same thing.
They have effective pickup, oh. They encourage you to come pick up. They give you a discount to come pick up your food. Dominoes is giving people $3 back to come pick up your pizzas. If you buy two pizzas, we'll give you three. how they can afford to do that? I have no idea. But I guess the money that they were spending on the drivers and the gas and all that, that they're, it's, they're probably ahead of the game.
Hopefully they didn't cut out the, in the quality of their ingredients, cuz it's already pretty crappy . No, I'm just saying like business is, let me tell you, I go to a restaurant, I went to out to eat cuz I had to company it down. Let me tell you like I, I was heaven. Where'd you guys. . I went, I don't want to say where I went cuz I went to a very popular place.
It wasn't as busy as it normally has been. The food was good, but the menu prices were through the roof. Oh, that's obvious. Yeah. And that's, that's, that's just the nature of the economy right now. But businesses in general just need to improve curbside pick up in-store pickup. ship stuff to people.
Figure out, like I was talking to this lady that owns a restaurant and they were telling me, they says, oh, during the pandemic her daughter came into the business. , who's younger and they started marketing all the stuff like they make their that mustard and they went to a company, they started selling all their mustard and their.
Cookies and the this and the that, that the restaurant is famous for in New York. Yeah. And they start selling it all online and they developed a whole online business. Smart. Yeah. And I think businesses need to seriously think about how to do that. People need to listen to their, to the youth for sure.
No. But I'm saying like, let's say you have a restaurant and everybody comes cuz they love the amazing salad dressing. You need to figure out how to. People come, Ooh, they love the tomato sauce. Sell your tomato sauce. I think people need to level up what they're doing on e-commerce with their, if your restaurant is famous for whatever hummus, sell tubs of hummus, right?
. And I don't see as that many restaurants doing that. My brother back home is funky, fresh spring rolls started off in his house. Yeah. Got a foods truck. Not a food truck, just a stand that he was outta all the places. Then he contacted one of the local grocery stores, they said yes.
So they, now he's inside of the grocery stores. And then he just recently opened up his like a stand, like inside of a. A food court type. Oh, cool. Situation. Nice. Yeah. Shout the Truman man. No, but let's say he's got a sauce that he does though. Like he's all that stuff. What I'm saying is it's all coming like slowly getting into the stores.
I think it's important. He just went real quick. He just went to his first time where they went to a facility to mass produce all the stuff. Nice. So he. , everything. Yeah, you have to go to a cold packer they call it. Yeah. Yeah. Cold pack. Pack. Yeah. So I think that restaurants need to look at that and go, Hey, where can we create extra income for our restaurant by selling this stuff?
Maybe it's t-shirts, maybe it's a hat. Maybe it's your special sauce addressing this whatever it is. If the. The guy who started the hotdog, what is the, so the sabra cart? Yeah, he's got the onions in a jar at Publix. Oh, yeah. If that guy's doing it, that's just a, that's a long time already.
That's, I know, but I'm saying like, that's an example. That's, yeah, that's an example. But it doesn't have to be in Publix. It could just be on your website. Oh, a small level. It's even better if it's more accessible. It could just be stuff you're making in the restaurant and you're just packaging it up and people are coming to pick it up, create that demand, then go up to the next level, yeah. Just like how you were saying, like the one guy who owns the salon, he's, he was selling some products. Yeah, they weren't selling any products cuz they didn't take credit cards. Oh so all the stuff had dust on the shelf. Is that right? Then they put in credit card processing. Now the guy, now that guy, and he's selling it on his website now he's selling it on his website.
People will come in and just come pick it up. Oh, I need a brush, I need hairspray, I need this cuz the guy is a spec, brought in something unique brands of items to sell people, that's the pod. Let's payment predictions. Your top. Payment predictions of 2023 were incre increased adoption of real-time payments.
Yep. The growth of mobile payments, expansion of contactless payments, the reemergence of digital currencies, adoption of open banking, and the continuance. The continuing growth of e-commerce. Yeah, E-commerce I think is still wide open. There's lot of, a lot of people can do. There's still so many businesses that don't have websites.
Yeah. So many businesses, what we are looking online there is, there's only 62% or something like that is small businesses have websites. Yeah. So there's still 38% of you running. There's even people that don't even have a Google My Business page. Yeah, that's, come on. Ridiculous. You guys gotta get with the program on that.
Yeah. But in conclusion, the payments business is strong. It's growing and people are gonna, and I think people, we gotta, I always say technology is the great equalizer. Agree. And I think this is, this year, I think we're gonna see some game changing technology come to the forefront. In a lot of different businesses.
Keep your eyes out on, keep your eyes and ears peeled on Nationwide Payment Systems on our website to see these new things coming out. We're working with a bunch of FinTech companies to incorporate FinTech onto our site for all sorts of new products and services that merchants are gonna be able to get from our.
And use it your business to help you increase your business and help you grow your business and make more sales. Nice. Peace out, carpet diem. Peace.