High Risk Payment Processing Done Right – Get Preapproved!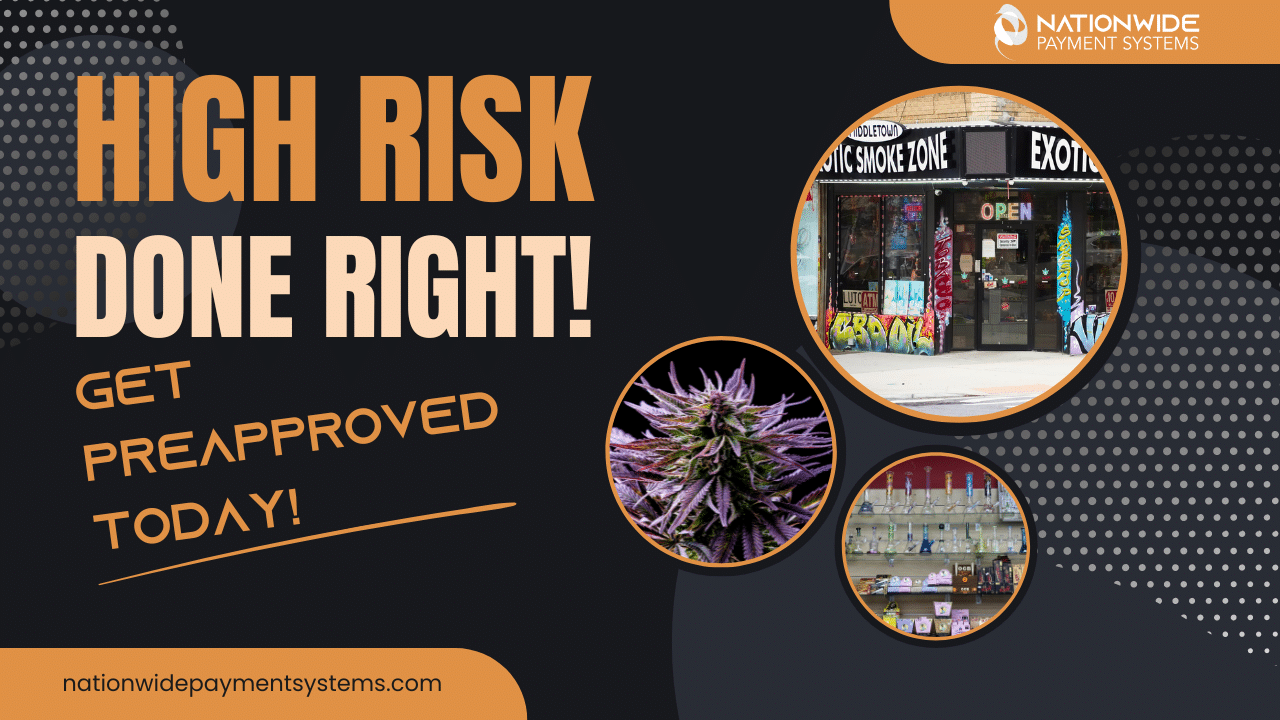 If you need a high-risk merchant account, you have come to the right place. Our team of experts and consultants specializes in assisting hard-to-place businesses like yours in obtaining a merchant account. We cater to high risk, high ticket, hard to place and niche merchants. With our extensive network of banks, processors and solutions, we have the knowledge and resources to help you navigate High Risk Payment Processing and its challenging process and get your account approved. 
Understanding High-Risk Payment Processing.
Before we dive into the details of our preapproval for High Risk Payment Processing process, let's first understand what a high-risk merchant account is. Certain industries are considered high risk due to various factors such higher likelihood of chargebacks, legal and regulatory complexities, reputational risks and compliance with card brands. Example of high-risk businesses include online gambling, gaming, adult content, streaming, nutraceuticals, CBD and Hemp products, Vape, Online Tobacco, Firearms, Travel, Cannabis relates businesses, Collections and more there is always a provider that likes to handle these business types and willing to do business with you. 
Obtaining a High-Risk Payment Processing merchant account can be a daunting task as many traditional banks and processors are hesitant to work with such businesses. However, with our expertise and industry connections, we can help you secure a merchant account that suits your specific needs. 
Our Process for Preapproval
When you choose to work with us, we make it our priority to understand your business and the challenges you face. By gaining in-depth knowledge of your industry, products or services and target audience, we can provide a tailored solution and increase your chances of getting approved. 
Our team will guide you through the entire High Risk Payment Processing process, ensuring that all the necessary documentation is gathered and prepared for submission. We have 20 plus years of experience working with high-risk businesses and we are well versed in the specific requirements and regulations that apply to each industry. 
In addition to document preparation, we conduct a comprehensive review of your website, policies, procedures, chargeback history, fraud controls and other factors. This assessment allows us to identify any potential issues that may hinder the approval process and work with you and your team to get them resolved. 
Benefits of Preapproval
Getting your ducks in a row before submitting your paperwork offers numerous advantages to your business. Firstly, it saves you valuable time and effort in dealing with issues and you do not want to have your application endlessly pended as the underwriting department will put your application on the bottom of the pile. With our process, we give you the peace of mind that there will not be a lot of hoops to jump through if we get your paperwork ready and have everything in order. 
Furthermore, this ensures that your business can process transactions smoothly without interruption. It gives you peace of mind, knowing that you have a reliable payment processing solution in place, and it allows you to focus on growing your business rather than worrying about payment complications. 
At Nationwide Payment Systems we are committed to assisting high risk industries like you in obtaining merchant accounts. Our team of Experts understands the challenges you face and provides tailored solutions that meet your unique requirements. 
By working with Various banks, processors, and solutions, we have the expertise to navigate the complexities of the world of high-risk merchant accounts. From gathering documents to reviewing your website, we address potential obstacles, we ensure a seamless and efficient business process. 
Don't let the label "High-Risk" hold you back. Contact us today and let us help you get your merchant account approved so you can start making money.