Customized Payment Processing For RestaurantS & Hospitalty Businesses In 2023 and Beyond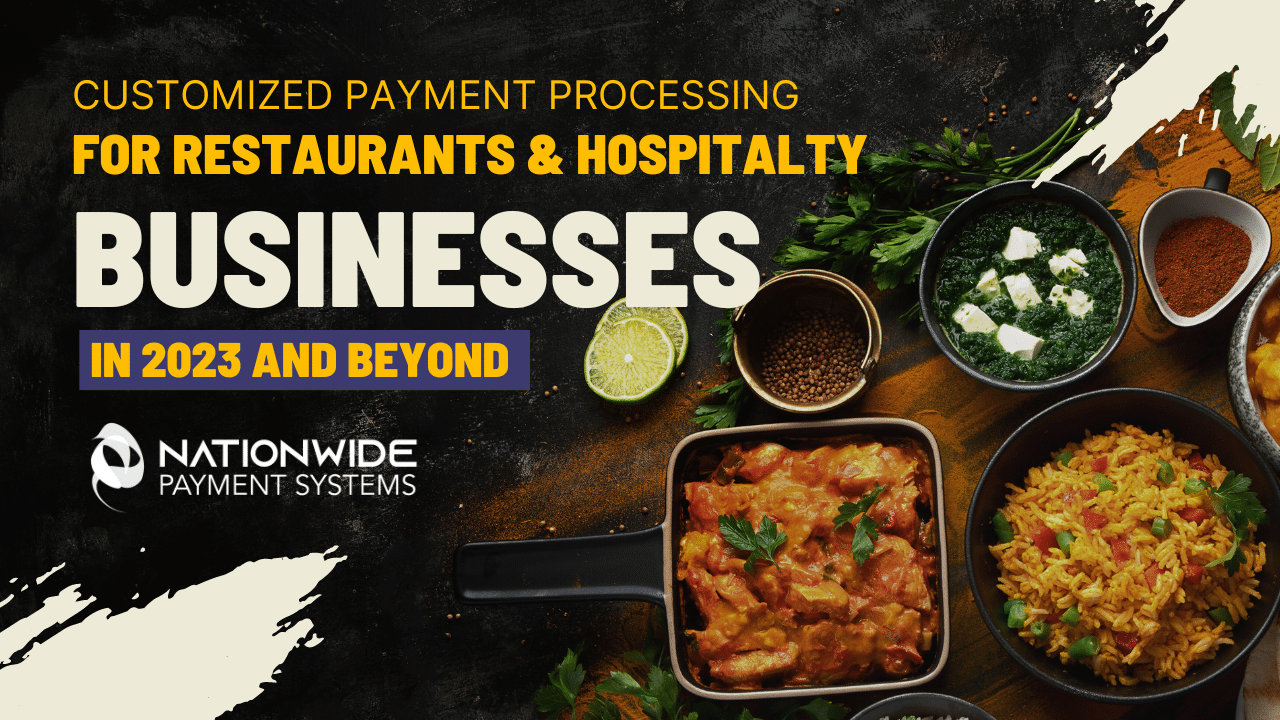 What is going on in the world of hospitality? My favorite book, "Who Moved My Cheese?" comes to mind because the business is rapidly changing, and the industry's challenges are mind-blowing. Before being in the Customized Payment Processing for restaurants business (24 years now), I was an Executive Chef in hotels and Country Clubs, Owned a Restaurant and Catering Company, consulted, designed menus, and much more.
Today, what are the challenges that face the hospitality business?
Labor Shortage
High Food Costs
Rising Wages
Regulation
Menu Prices & Inflation
Toast – Clover Issue with online ordering
Delivery – Apps
Technology
Customized Payment Processing For Restaurants
How will businesses overcome these obstacles and stay in business, stay profitable, keep customers happy, keep staff happy, and stay one step ahead?
Labor Shortage
At the National Restaurant Association show and other shows … Robots are showing up – what can these robots do? Will they be a fad – how can they help your business, and how difficult are they to use? I recently saw one at an Asian restaurant that was bringing food from the kitchen to the dining room to save the wait staff time. I saw one at a pizza place and the server took the order, and the pizza rolled out in a robot. The labor shortage is real; the pandemic sent many back to school, and some people got better-paying jobs or started small businesses and moved out of the hospitality sector.
Another saying I will throw in here – is Wages never outpace inflation!
High Food Costs
Whether you agree with me or not – until the price of Oil/Gas comes down, this will stay high; the price of gas affects everything! When gas is low, prices start to come down, and the prices reduce slowly over time. Being 63 years old, I have seen this play out 3-4 times in my life. The world's economy runs on oil/fossil fuels, and until we have a viable alternative, we need to keep drilling. Labor costs also affect this – so it is a double whammy.
Rising Wages
Employees need to get paid, but it is causing menu prices to rise, and when you go to leave a tip, the days of seeing 15%, 18%, and 20% are over now. Most tip suggestions are 20%, 25%, or 28-30%. Everyone wants to get paid more – but we are in a situation – where Wages can not keep pace with inflation.
The answer for restaurants is to look at technology to help alleviate the wage and labor shortage. Point-of-sale systems with orders and pay at the table encourage customers to come and pick up food instead of using delivery services. Think about alternative items to sell to a customer that might want in their house – dressings made at the restaurant or other food items packaged or frozen. I saw a restaurant with a refrigerator with grab-and-go items for customers to buy in-store and online. Setting up a set parking place or places for curbside picks or having an employee outside during peak times to help get the orders out quickly.
Regulation
There is a lot of local regulation going on in some states or cities regarding wages, job description, and pay for servers – this is getting very difficult for the hospitality business to deal with. In New York, a new law is proposed to outlaw coal-burning ovens that many pizza places use or force them to install new ventilation systems that can run $20-30K.
Menu Pricing CHANGES Constantly
With prices of food fluctuating, are you still printing menus? Many restaurants are going to menu boards, QR code menus, less expensive paper menus, or other alternatives. Recently, I saw a restaurant with tablets with the menus they gave to customers. How is your business handling this issue? Having your point of sale connected to online ordering and updating price changes in real-time is very important, or it could cost you a ton of money.
Online Ordering – Toast – Clover issue?
Toast adding 99 cents to each online order, Clover adding $1.49 to each online order, and passing the fee to the customer and the technology company keeping the money is a huge issue; there are numerous articles and comments on the internet and social media sites. Will other technology platforms try to do the same thing, or will we see lawsuits over these issues?
Delivery Apps
How are you managing this at your restaurant? Do you have a counter full of tablets and printers? Do you have one service that keeps track of them all? Have they integrated into your Customized Payment Processing for restaurants point of sale system? The last one can be a huge time saver! Many restaurants mark up all the prices 20-30% for these apps to cover the fees. Also, many restaurants are encouraging diners who order online just to come by and pick up the food and save money! DoorDash and Uber Eats offer people who do a lot of online ordering a monthly membership; targeting those people on social media could increase business!
Technology – Customized Payment Processing For Restaurants
This has been mentioned in this article quite a few times: technology can be a game changer when it comes to Any Business! It's time you looked at your technology, and with all of the companies offering hardware and software as a service – it is a way not to spend money and get what you need to run your business. How do you want your point of sale system to run in the cloud, or do you need a server-based system that runs on your network? Do you have a bar and restaurant or a restaurant with a bar? Are you a nightclub with a big bar business – we have solutions that can fit your needs and budget. Let's talk if you are looking for a Customized Payment Processing For Restaurants for your restaurant or hospitality business!
You can book an appointment for more information about Nationwide Payment Systems and Customized Payment Processing for restaurant services. we provide no-cost consultation, and we can discuss your business needs, provide recommendations, set up demos of different systems, and explain the differences.