Cannabis-Related Businesses Secure Merchant Accounts with Nationwide Payment Systems!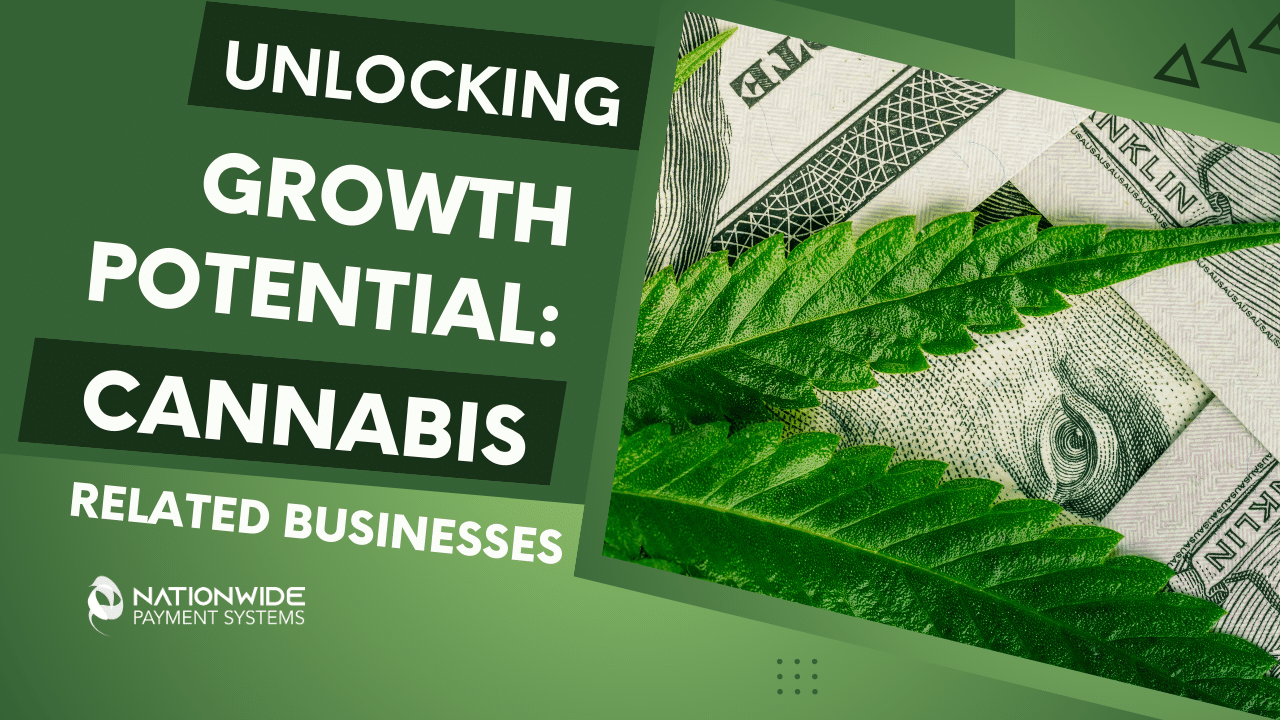 Unlocking Growth Potential: Cannabis Related Businesses Secure Merchant Accounts with Nationwide Payment Systems!
The burgeoning cannabis industry has taken the USA by storm, with numerous states legalizing medical and recreational cannabis. As this market continues to grow, the need for reliable and accessible payment solutions has become crucial for Cannabis Related Businesses operating within the sector. However, many cannabis-related companies often need help attempting to obtain a merchant account due to the perceived high-risk nature of the industry. Enter Nationwide Payment Systems, a forward-thinking payment solutions provider, and their innovative banking partner are opening doors for Cannabis Related Businesses to secure merchant accounts without facing exorbitant fees or rates. 
Say Goodbye to High-Risk Hassles
The cannabis industry's rapid growth has been hindered by the lingering perception of the high risk associated with the sector. Traditional banks and payment processors have been reluctant to work with businesses involved in the cannabis space, primarily due to the complex and evolving legal landscape. This has led to many Cannabis Related Businesses grappling with payment processing difficulties, paying high rates and fees, and hindering their ability to scale and serve their customers efficiently. 
Nationwide Payment Systems' Disruptive Approach
In collaboration with their progressive banking partner, Nationwide Payment Systems has taken a disruptive approach to the challenges cannabis-related businesses face. By recognizing the industry's legitimacy and potential, they are offering tailored merchant account solutions that cater specifically to the needs of cannabis packaging & labeling companies, grow lights suppliers, pipes and rolling papers retailers, SAAS software providers, cannabis-related magazine and web ads, staffing services, accessories retailers, consulting firms, event organizers, medical cannabis doctors, and medical cannabis card doctors. 
The Perks of Cannabis Related Business Partnering with Nationwide Payment Systems
Fair and Competitive Rates: Unlike traditional payment processors that often charge exorbitant fees for high-risk industries, Nationwide Payment Systems offers merchant accounts with reasonable and competitive rates. Allowing cannabis-related businesses to manage their finances more efficiently and allocate resources toward growth and innovation.

 
Compliance Expertise: Navigating the ever-changing regulatory landscape is challenging, especially for businesses operating in the cannabis industry. Nationwide Payment Systems' banking partner possesses an in-depth understanding of compliance requirements, ensuring that companies remain compliant and avoid unnecessary hurdles.

 
Seamless Integration: Nationwide Payment Systems provides a user-friendly platform that seamlessly integrates various business models and software systems. They are simplifying payment processing for businesses and enhancing the overall customer experience.

 
Enhanced Security: The team at Nationwide Payment Systems prioritizes the security of transactions and sensitive data, employing cutting-edge encryption technologies to safeguard against fraud and data breaches.

 
Excellent Customer Support: Exceptional customer service is at the heart of Nationwide Payment Systems' mission. Their team of experts is readily available to provide assistance, answer queries, and address concerns promptly.

 
Unlocking New Avenues for Cannabis-Related Businesses
With Nationwide Payment Systems as their trusted payment processing partner, cannabis-related businesses can confidently explore new opportunities and expand their customer base. The ability to accept credit and debit card payments seamlessly provides a competitive advantage, and fosters trust among customers, ultimately boosting business growth and profitability. We can provide payment processing for B2B transactions, Face-to-Face, Invoicing, and E-commerce.  
Nationwide Payment Systems and its banking partner are revolutionizing the payment processing landscape for cannabis-related businesses. By offering merchant accounts without the burden of high-risk fees, they empower entrepreneurs to pursue their ambitions without hindrance. As the cannabis industry continues to evolve, having a reliable payment processing solution is no longer a luxury but a necessity for sustained success. With Nationwide Payment Systems, Cannabis Related Businesses can confidently embrace their potential and contribute to the thriving cannabis market with ease.