The Power of A Virtual Terminal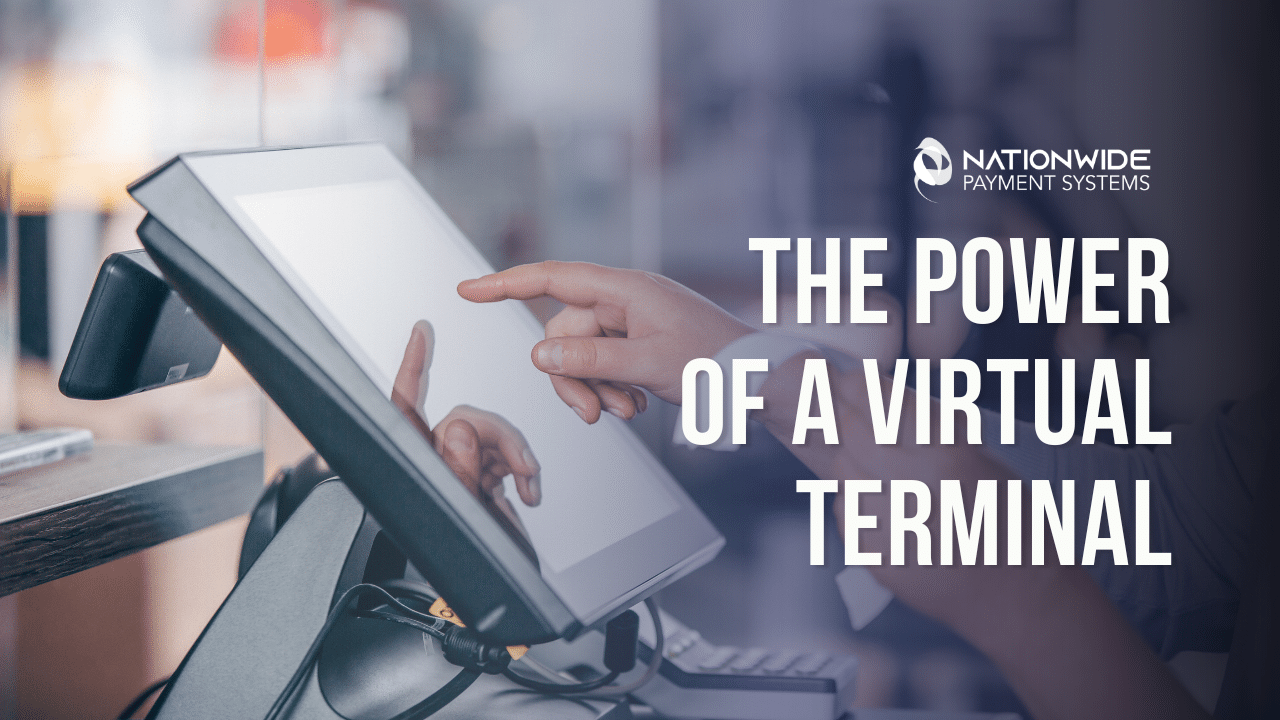 Get a Full-Featured Virtual Terminal from Nationwide Payment Systems
In today's fast-paced business landscape, efficiency and convenience are paramount. When processing payments, having a reliable virtual terminal can make all the difference. At Nationwide Payment Systems, we offer a state-of-the-art virtual terminal solution that empowers businesses to streamline payment processing operations.
The Power of a Virtual Terminal
A virtual terminal is a secure online portal that enables merchants to process credit card payments without needing physical card readers. This technology mainly benefits e-commerce, mail-order companies, and even brick-and-mortar stores looking to expand their payment options.
We offer devices that link to our virtual terminal as well! 
Seamlessness and Convenience
The entire payment process is simplified with Nationwide Payment Systems' virtual terminal. Customers can make payments using their credit cards from the comfort of their own homes. This level of convenience enhances the customer experience and increases the likelihood of completed transactions. Send invoices, text and or email payment requests and even allow customers to add a tip! 
Versatility in Payment Methods
Our virtual terminal supports various payment methods, including major credit and debit cards. Whether your customers prefer Visa, Mastercard, American Express, Discover, Apple Pay, or Google Pay we've got you covered. This versatility ensures that you can cater to a diverse customer base. We also offer ACH/E-check solutions if that fits your business model, and you can add on a payment portal. 
Robust Security Measures
Security is a top priority when it comes to payment processing. Our virtual terminal is equipped with advanced encryption technology, safeguarding sensitive customer information and providing peace of mind for you and your clientele. All of our solutions are PCI compliant and some are HIPPA Compliant as well.
Key Features of Nationwide Payment Systems' Virtual Terminal
User-Friendly Interface
Our virtual terminal boasts an intuitive interface that requires minimal training. This ensures that your team can start processing payments efficiently in no time.
Real-Time Reporting and Analytics
Stay on top of your business's financial performance with our comprehensive reporting and analytics tools. Track sales trends, monitor transaction volumes, and gain valuable insights to inform your business strategy.
Customizable Receipts
Personalize the customer experience by creating custom receipts with your branding. This reinforces your brand identity and adds a professional touch to each transaction.
Recurring Billing Capabilities
Our virtual terminal offers seamless recurring billing options for businesses with subscription-based models. Set up automatic payments and focus on growing your business while we handle the rest. Recurring billing, weekly, bi-weekly, monthly, quarterly, semi-annual, or annually, can be set up!
How Nationwide Payment Systems Stands Out
At Nationwide Payment Systems, we go above and beyond to provide a virtual terminal solution that exceeds industry standards. Our commitment to innovation, security, and customer satisfaction sets us apart.
In payment processing, having a reliable and feature-rich virtual terminal is a game-changer. Nationwide Payment Systems offers a top-tier solution that empowers businesses to process payments quickly and confidently. Elevate your payment processing capabilities today with our cutting-edge virtual terminal.