The Consumerization of B2B Payments: Revolutionizing Nationwide Payment Systems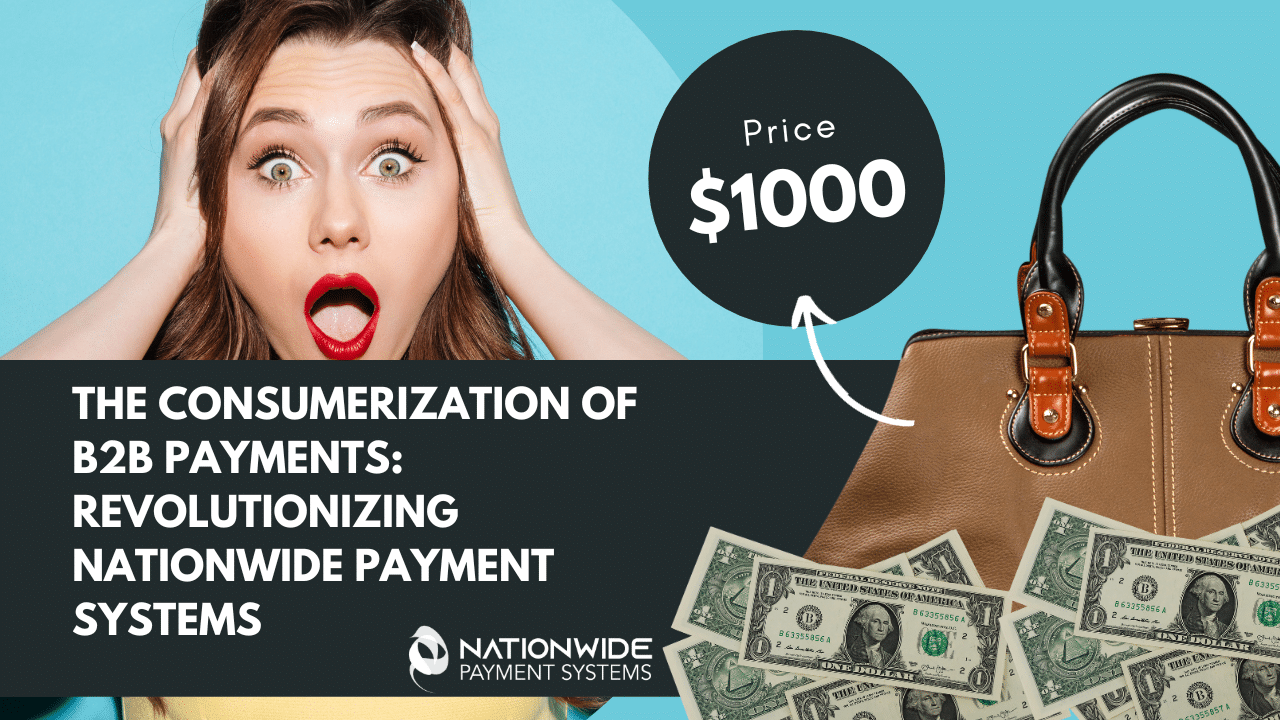 In the fast-paced world of commerce, the evolution of payment systems is crucial for businesses to stay competitive. While consumer payments have made significant strides in becoming faster and more secure, B2B payments have lagged due to their complex workflows and reliance on outdated processes. However, a transformation is underway. Nationwide Payment Systems is leading the way with innovative solutions like the NPS B2B Payment Portal. This article explores the opportunities and advancements in consumerizing B2B payments, revolutionizing how businesses pay other businesses! We bring your business a customized payment solution for B2B payments. Let companies pay their bills like they pay them at home with NPS!
The Intricacies of B2B Payments:
Despite the digital revolution, nearly 30% of business transactions in the U.S. are still conducted through checks. This reliance on outdated methods hampers efficiency and affects cash flow. Moreover, businesses often need help managing outstanding receivables, with an estimated $3 trillion in late invoices alone. Approximately 30% of these receivables are paid late, causing further financial strain.
10 Days turns into 21 Days
30 Days turns into 45 Days
45 Days turns into 60 Days
60 Days turns into 90 days
Paving the Way for Digital B2B Payments:
The digitalization of payments has gained momentum among consumers seeking convenience, security, and visibility. The B2B sector is taking note, recognizing the need for transformation. Successfully digitalizing B2B payments can lead to many benefits, including increased clientele and revenue, enhanced customer satisfaction, reduced operational risks, and improved access to lending. Consumers pay bills through links and websites; enabling your business to do the same thing will also give your customers a better experience. Offering flexible ways to pay is also essential. Having both Credit Cards and ACH available, giving the business owner a choice, and having a safe way for them to pay is also paramount.
Nationwide Payment Systems Commitment to Empowering Businesses:
NPS offers a comprehensive suite of payment services aimed at helping businesses of all sizes thrive. Solutions like electronic invoicing, NO Code Payment Portals, Accepting ACH, and Credit Cards in the same portal for ease of use are designed for Businesses to enhance the customer experience, manage cash flow, foster goodwill, and save time and costs.
Our system allows you to free up your time and get paid 24-7 365!
B2B Payment Portal
NPS Payment Portal makes it easy to accept payments, facilitating seamless transactions between your business and your customers. This significantly reduces friction, streamlines settlements, and optimizes payments for business owners, office, and accounting staff. The NPS B2B Payment Portal has rapidly expanded its capabilities with recurring payments and offers a customized solution for businesses. It can be integrated with our open API to existing systems.
The Future of B2B Payments:
The 'consumerization of B2B' is in full swing, and Nationwide Payment Systems is at the forefront of driving this digital transformation. We are continuously working on expanding the platform and helping business owners get paid quickly, fast, and easily with our easy-to-use technology. When we train a business on our solution, they are shocked at how easy it is to use the system and its features.
Book a Demo today! Consumerize your B2B Payments.
We are on the brink of a digitalization tipping point, with the payments technology industry poised to meet and exceed the expectations of businesses across all verticals. Embracing solutions that enhance efficiency, boost revenue, and cut costs while improving employees' day-to-day experiences is paramount for organizations moving forward. The consumerization of B2B payments is not just a fad; it's a revolution that will reshape how you collect payments from your customers for years to come.